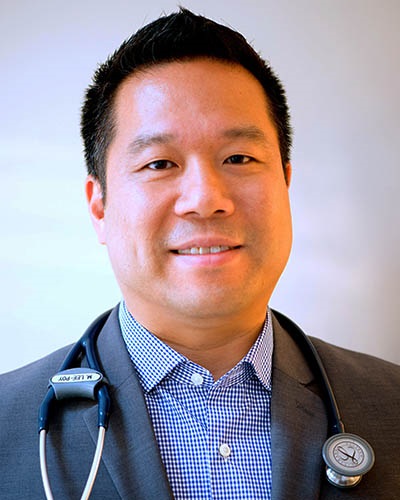 Dr. Michael Lee-Poy is recognized by his colleagues as a family physician "who truly excels at attending not just to the physical manifestations of disease, but also to the lived experience of the patient." Dr. Lee-Poy practises comprehensive family medicine. He is also an associate clinical professor with the McMaster University Department of Family Medicine and Pre-Clerkship Coordinator for the Michael D. DeGroote School of Medicine Waterloo Regional Campus, where he helped start the first distributed teaching site.
Dr. Lee-Poy actively seeks leadership opportunities that combine patient care, teaching, and advocacy. A leader in transgender health in his community, he worked alongside the University of Waterloo School of Pharmacy colleagues in 2016 to develop TransEd—an online education program to help students provide high-quality care to transgender patients. Identifying a resource need, collaborating to fill the information void, and focusing on the necessary communication skills to address the needs of a diverse and complicated population respectfully highlight both his interests and his educational leadership strengths. Colleagues share that he does not hesitate to consult non-physician health care providers to find the best options for his patients and learning opportunities for his students. Collaborating with the University of Waterloo School of Pharmacy, he co-led an Interprofessional Education Day for McMaster medical students and University of Waterloo pharmacy students, focusing on understanding each other's scopes of practice and effective prescribing.
Dr. Lee-Poy is honoured to be recognized with this award, as it celebrates what family physicians do as being valuable and important. He believes family physicians must hold the stories of their patients gently and recognize the journey they share with them is a gift.
Canada's Family Physicians of the Year –
The Reg L. Perkin Award

Since 1972, the CFPC and the Foundation for Advancing Family Medicine have honoured family physician members who exemplify the guiding principles of family medicine. Initially, one award recipient was selected to receive the Family Physician of the Year (FPOY) Award each year. Since 2002, 10 family physicians have been recognized annually—one representing each CFPC Chapter.
Canada's FPOYs are chosen by their peers, other health care colleagues, and community leaders for:
Providing exceptional care to their patients
Making meaningful contributions to the health and well-being of their communities
Dedicating themselves as researchers and educators of future generations of family doctors
FPOY recipients must exemplify the four principles of family medicine:
Be skilled clinicians
Be community based
Act as a resource to a practice population
Recognize the central importance of the doctor-patient relationship
CFPC Chapters review nominations and select the FPOY for their respective provinces. The provincial FPOYs are honoured at their respective Annual Scientific Assemblies or Annual General Meetings. The national FPOYs are honoured at the annual CFPC Family Medicine Forum.