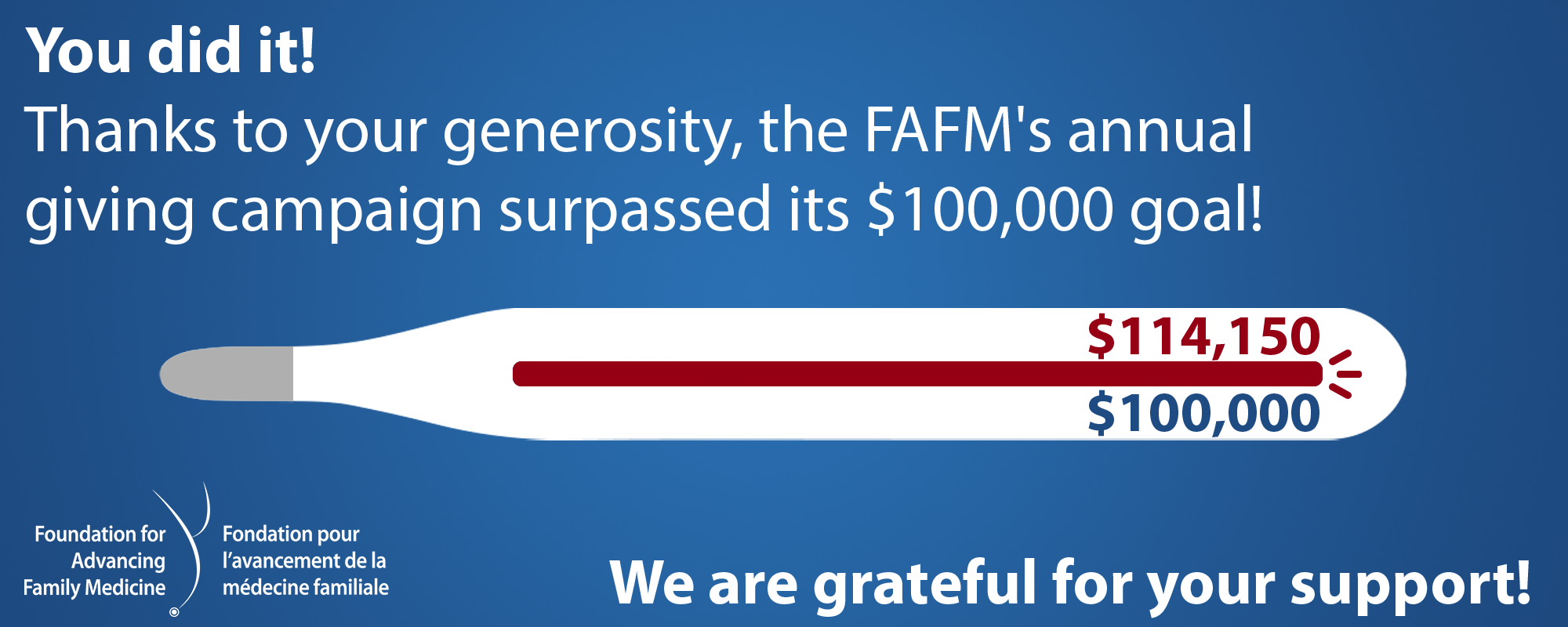 The FAFM 2022 Annual Giving Campaign
The Foundation for Advancing Family Medicine (FAFM) aims to support the work of family physicians and family medicine researchers and educators to provide everyone in Canada with access to comprehensive family medicine where they live or work.
We support advancements aimed at providing the best care for everyone in Canada.
The FAFM's transformative goals can only be achieved with the gathered forces of many. Thanks to your support we surpassed our $100,000 goal for a total of $114,150!
This year, an anonymous donor matched every dollar donated up to $50,000.
Or
Send a cheque made payable to Foundation for Advancing Family Medicine to:
The Foundation for Advancing Family Medicine
2630 Skymark Avenue
Mississauga, ON L4W 5A4
Make a gift of stock or securities.
Please contact [email protected] for more information.
What you can support
Family Medicine Research, including grant support for projects of specialized application in family medicine, as well as fellowships and partnerships with research centres in North America.
Education Initiatives, such as scholarships for family medicine residents, grants to support scholarly work, fellowships, and continuing professional development programs.
Initiatives of the College of Family Physicians of Canada™ (CFPC)'s Besrour Centre for Global Family Medicine, focused on establishing co-learning opportunities with family doctors in low- and middle-income countries and on developing capacity for the establishment of comprehensive primary care in underserved communities.
Area of Greatest Need, as established by the FAFM in consultation with the CFPC to respond to current challenges.
Corporate Sponsorships
The FAFM provides vehicles for businesses and corporations to contribute to the goals of the FAFM. Contact us to discuss how the opportunities to advance family medicine through the FAFM align with your business goals.
Every generous donation of $15 or more will receive a charitable tax receipt for the maximum allowable amount. Your name will be listed in the FAFM Partners newsletter, published three times a year as an insert of the Canadian Family Physician journal and distributed to more than 40,000 CFPC members. Gifts of $5,000 or more qualify for additional benefits.
Thank you for your generosity. Your donation improves the lives for all in Canada!