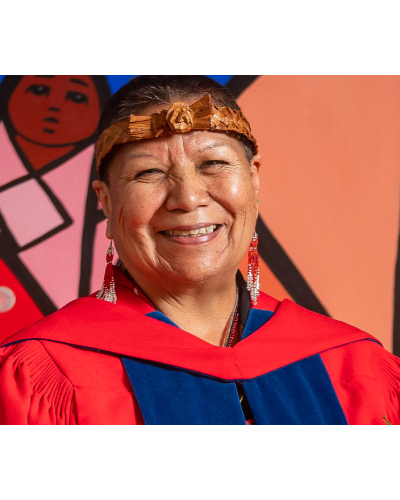 "I will always be grateful for my ancestors and anyone who has mentored me. Without them, I would not have the wisdom to give."
For over 30 years, Elder Roberta Price has actively shared her leadership, wisdom, and teachings at the University of British Columbia (UBC) and throughout British Columbia's lower mainland to assist Indigenous and non-Indigenous community members in achieving improved outcomes in health care.
Her service as an Elder for almost 20 years has involved conducting critical research into inequities surrounding health care initiatives at UBC and providing knowledge to support many equity-based and culturally-safe research projects.
Currently an adjunct clinical professor in the Department of Family Medicine at UBC, she has also been active in the School of Nursing, providing an Indigenous voice and guidance on research projects about women, intimate partner violence, and mental health.
Roberta Price's leadership has been instrumental in the efforts of decolonizing health care and creating cultural safety and equity for Indigenous patients. She continues to help create shared spaces for Indigenous and western healing approaches in Canada.
Honorary Membership Award
Honorary Membership may be conferred upon individuals who are not family physicians in Canada. This honour recognizes physicians or members of the public who have made an outstanding contribution to the CFPC, the discipline of family medicine, the medical profession, or the health and well-being of the population in Canada and around the world.