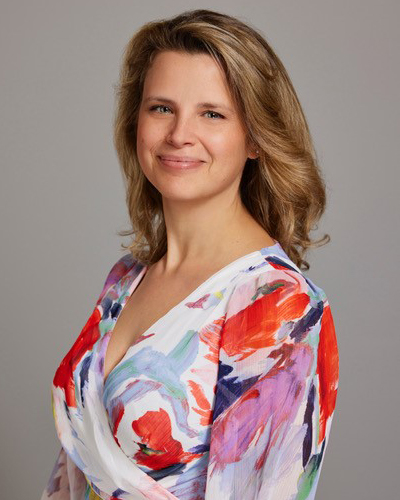 After completing her family medicine residency in 2005, Dr. Maxine Dumas Pilon completed an enhanced skills program in maternal and child health at McGill University. She practised and taught at St. Mary's Hospital for 15 years before co-founding Clinique Indigo, where she currently practises. She has also been an associate professor in the Department of Family Medicine at McGill University since 2014.
In addition to her teaching duties, Dr. Dumas Pilon has conducted many studies on perinatology, access to care, and innovation with different branches of the Quebec Ministry of Health and Social Services (MSSS), the Canadian Foundation for Healthcare Improvement (CFHI), and the Quebec College of Family Physicians (QCFP), of which she was president from 2014 to 2017.
Dr. Dumas Pilon also initiated the eConsult project in Quebec. This led her to her current position as medical advisor for the MSSS, where she is responsible for files relating to access and digitization. She has long taken part in numerous research projects.
Since 2016 she has been chair of the Scientific Committee of the QCFP Symposium on Innovation. This event, which was inspired by the TV show "Dragons' Den," brings together clinical leaders, innovators, and key stakeholders to promote the diffusion of made-in-Quebec innovations in family medicine on a larger scale.
Dr. Dumas Pilon received the Royal College Award for Early-Career Leadership in 2011 and the CFPC's Nadine St-Pierre Award in 2003.
She has a keen interest in bioethics, her first field of study, and particularly in issues surrounding the allocation of resources and the relationship between medicine and death. She believes that family medicine has a positive impact on the health of individuals and communities. Being able to accompany so many individuals on their journey through life is a great privilege for her. Dr. Dumas Pilon and her husband are also the proud parents of three children whom they adore.
Calvin L. Gutkin Family Medicine Ambassador Award
The award recognizes a dynamic leader in Canadian family medicine distinguished for their vision, innovation, strong communication skills, and effective relationship building with national and international organizations and working groups that support and positively influence the everchanging role of the family physician and family medicine in Canada.