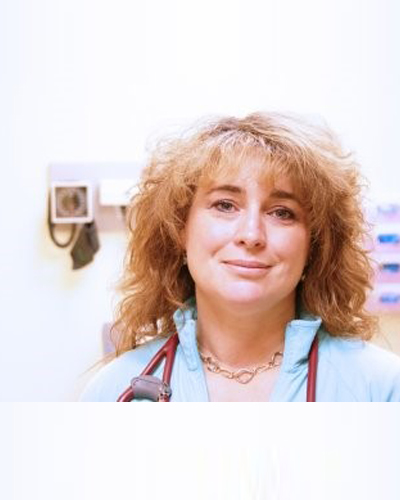 Dr. Natalie Cauchon graduated from the University of Sherbrooke Faculty of Medicine in 1992, and received her family medicine certification in 1995. She has been practising family medicine for 23 years in the region of Bathurst in New Brunswick, where she has a patient base of more than 2,300 patients who greatly appreciate her expertise, dedication, listening skills, and warmth. The Clinique Médicale Nepisiguit, which she co-founded in 1998 and where she most often practices, embraces the Patient's Medical Home model.
Dr. Cauchon's varied practice includes obstetrics, as well as home care, several long-term care facilities, and the residence of the hospitallers of Bathurst. She also set up a breastfeeding program at the regional hospital in Bathurst and has trained various health care professionals in this field. Her medical interests range from obstetrics to geriatrics, with a subspecialization in sclerotherapy.
In addition to teaching residents and interns, Dr. Cauchon participates in training nurse practitioners. In fact, interprofessional collaboration is an important aspect of her practice. The caregivers with whom she works appreciate the way she fosters teamwork, as well as her receptiveness. As the representative of the Acadie-Bathurst region on the Board of Directors of the New Brunswick Medical Society, Dr. Cauchon assisted with clarifying the role of nurse practitioners and the benefits of their involvement in family health teams.
Canada's Family Physicians of the Year –
The Reg L. Perkin Award
Since 1972, the CFPC and the Foundation for Advancing Family Medicine have honoured family physician members who exemplify the guiding principles of family medicine. Initially, one award recipient was selected to receive the Family Physician of the Year (FPOY) Award each year. Since 2002, 10 family physicians have been recognized annually—one representing each CFPC Chapter.
Canada's FPOYs are chosen by their peers, other health care colleagues, and community leaders for:
Providing exceptional care to their patients
Making meaningful contributions to the health and well-being of their communities
Dedicating themselves as researchers and educators of future generations of family doctors
FPOY recipients must exemplify the four principles of family medicine:
Be skilled clinicians
Be community based
Act as a resource to a practice population
Recognize the central importance of the doctor-patient relationship
CFPC Chapters review nominations and select the FPOY for their respective provinces. The provincial FPOYs are honoured at their respective Annual Scientific Assemblies or Annual General Meetings. The national FPOYs are honoured at the annual CFPC Family Medicine Forum.