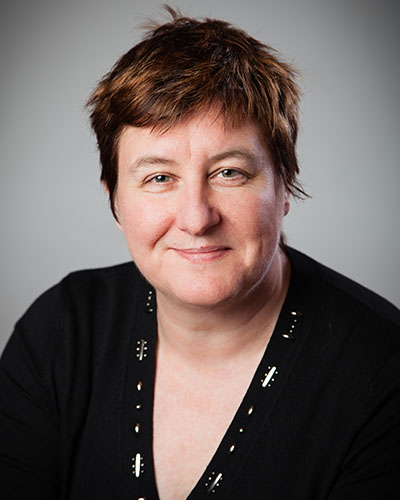 Dr Marie Hayes is celebrated for her commitment and compassion as an outstanding family physician and for her extensive leadership in the area of mental health.
After obtaining her medical degree from the University of Ottawa in 1985, Dr Hayes completed her family medicine residency at Dalhousie and McGill Universities. She received Certification in Family Medicine from the College of Family Physicians of Canada (CFPC) in 1987.
Dr Hayes began her career as a rural family physician in the Pontiac region of Quebec. For the past 20 years she has practised emergency medicine, obstetrics, and long-term care in Sherbrooke, Quebec, in addition to running her own practice. She is the co-founder and co-owner of La Clinique de Santé Jacques-Cartier, and is Medical Director of the Groupe de médecins de famille Jacques-Cartier, an interdisciplinary team of more than 20 health care professionals.
Dr Hayes has a particular interest in integrated physical and mental health care. Currently, she is a clinical professor at the University of Sherbrooke, and is responsible for the mental health teaching program at the Jacques-Cartier Family Medicine Teaching Unit. In addition to her academic roles, Dr Hayes is a member of the CFPC's Mental Health Program Committee and two CFPC mental health working groups. She also serves as co-chair of the Medical Council of Canada's Qualifying Examination Part 1 Psychiatry Test Committee.
Canada's Family Physicians of the Year – the Reg L. Perkin Awards

Since 1972, the CFPC and its Research & Education Foundation have honoured family physician members who exemplify the guiding principles of family medicine. Initially, one award recipient was selected to receive the Family Physician of the Year (FPOY) Award each year. Since 2002, ten family physicians have been recognized annually—one representing each CFPC Chapter.
Canada's FPOYs are chosen by their peers, other health care colleagues, and community leaders for:
Providing exceptional care to their patients
Making meaningful contributions to the health and well-being of their communities
Dedicating themselves as researchers and educators of future generations of family doctors
FPOY recipients must exemplify the four principles of family medicine:
Be skilled clinicians
Be community based
Act as a resource to a practice population
Recognize the central importance of the doctor-patient relationship
CFPC Chapters review nominations and select the FPOY for their respective provinces. The provincial FPOYs are honoured at their respective Annual Scientific Assemblies or Annual General Meetings. The national FPOYs are honoured at the annual CFPC Family Medicine Forum.