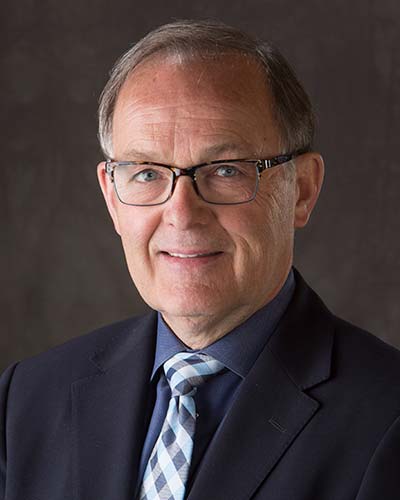 Dr. Kevin Coates has worked as a full-scope family physician at the multidisciplinary St. Boniface Clinic in Winnipeg, Manitoba, since 1982; he has held the roles of President and Managing Partner since 1995 and has been a preceptor for physician assistants since 2013. He holds the distinction of being one of the first fee-for-service physicians with Manitoba Health to work with physician assistants, which has been overwhelmingly successful in enhancing patient care.
Since 1982 Dr. Coates has been active in geriatric rehabilitation medicine at St. Boniface General Hospital, where he was the attending physician for 10 in-patients in a 40-bed geriatric ward from 2010 to 2017. Since 2017 he has been the attending physician in the geriatric rehabilitation ward at Victoria General Hospital. He is also the attending physician for 38 patient-residents at Actionmarguerite, a long-term care institution, which includes sharing with psychiatry the care of 10 patients who exhibit the behavioural and psychological effects of dementia. He maintains a personal commitment to providing patient-centred care and an interest in and dedication to care of the elderly; in his busy office practice he cares for nearly 2,500 rostered patients, of whom 25 per cent are older than 70.
Continuously delivering compassionate and competent care requires physicians with the ability to manage and embrace challenges, according to Dr. Coates. He feels family doctors must develop and maintain partnerships with other care providers to be effective and efficient. Thirty-seven years into his career, he still finds family medicine a rewarding profession and a true privilege.
Canada's Family Physicians of the Year –
The Reg L. Perkin Award
Since 1972, the CFPC and the Foundation for Advancing Family Medicine have honoured family physician members who exemplify the guiding principles of family medicine. Initially, one award recipient was selected to receive the Family Physician of the Year (FPOY) Award each year. Since 2002, 10 family physicians have been recognized annually—one representing each CFPC Chapter.
Canada's FPOYs are chosen by their peers, other health care colleagues, and community leaders for:
Providing exceptional care to their patients
Making meaningful contributions to the health and well-being of their communities
Dedicating themselves as researchers and educators of future generations of family doctors
FPOY recipients must exemplify the four principles of family medicine:
Be skilled clinicians
Be community based
Act as a resource to a practice population
Recognize the central importance of the doctor-patient relationship
CFPC Chapters review nominations and select the FPOY for their respective provinces. The provincial FPOYs are honoured at their respective Annual Scientific Assemblies or Annual General Meetings. The national FPOYs are honoured at the annual CFPC Family Medicine Forum.