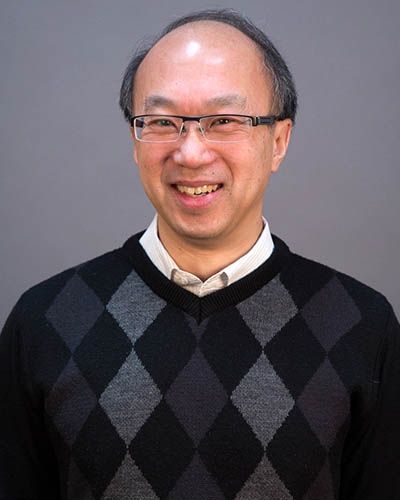 Dr. Donald Chan is considered exemplary by his colleagues as an educator and in his clinical knowledge, excellent patient rapport, and practice-management skills.
Working in a team-based practice, Dr. Chan keeps his clinic involved and updated in quality improvement initiatives, striving to follow the Patient's Medical Home model. He ensures his clinic is up to date with optimizing its electronic medical record (EMR) use to facilitate best practices, such as panel management and improving patient access. He also provides palliative care in hospice and home visits to his patients as required.
Dr. Chan is an early adopter of quality improvement measures to implement evidence-based practices that enhance patient care, participating in Alberta's Access Improvement Measures (AIM) initiative and Toward Optimized Practice (TOP) screening programs and actively monitoring access indicators. Recently Dr. Chan was an EMR mentor in the Alberta Peer-to-Peer Network Program, focusing on panel management, appropriate population screening, and chronic disease management. He is also a clinical lecturer at the University of Alberta's Family Medicine Department and Vice President of the Board of Directors of the Edmonton North Primary Care Network.
Dr. Chan has been married to his wife, Edna, for 29 years, and they have two children—their daughter, Samantha, is a registered nurse in Edmonton, and their son, Richard, is a family medicine resident in Calgary. Dr. Chan says it is a privilege to be a part of his patients' lives for the long term, finding it especially satisfying to see the children he has cared for become adults and then parents themselves. He considers himself a small cog in this great machine that we call health care, and with this perspective humbly accepts this award.
Canada's Family Physicians of the Year –
The Reg L. Perkin Award

Since 1972, the CFPC and the Foundation for Advancing Family Medicine have honoured family physician members who exemplify the guiding principles of family medicine. Initially, one award recipient was selected to receive the Family Physician of the Year (FPOY) Award each year. Since 2002, 10 family physicians have been recognized annually—one representing each CFPC Chapter.
Canada's FPOYs are chosen by their peers, other health care colleagues, and community leaders for:
Providing exceptional care to their patients
Making meaningful contributions to the health and well-being of their communities
Dedicating themselves as researchers and educators of future generations of family doctors
FPOY recipients must exemplify the four principles of family medicine:
Be skilled clinicians
Be community based
Act as a resource to a practice population
Recognize the central importance of the doctor-patient relationship
CFPC Chapters review nominations and select the FPOY for their respective provinces. The provincial FPOYs are honoured at their respective Annual Scientific Assemblies or Annual General Meetings. The national FPOYs are honoured at the annual CFPC Family Medicine Forum.