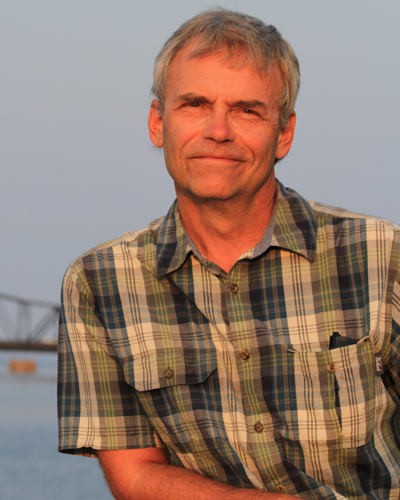 Dr. Dieter Poenn obtained his medical degree from McMaster University, and completed his residency at Queen's University. He currently is lead physician at the Northeastern Manitoulin Family Health Team and medical director at Manitoulin Centennial Manor (a municipal home for the aged in Little Current, Ontario), runs a family practice in Little Current, and provides emergency room and in-patient care for the Manitoulin Health Centre, where he recently stepped down as vice president of the medical staff.
Dr. Poenn has been an associate clinical professor of family medicine at the University of Ottawa since 1997, and an assistant professor at the Northern Ontario School of Medicine since 2005. He has been a Province of Ontario Coroner since 1993 and holds certifications in Advanced Cardiac Life Support, Advanced Trauma Life Support, Advanced Neurological Life Support, Advanced Life Support in Obstetrics, Orthopedic Medicine, Gastroscopy and Colonoscopy. He is a Fellow in the CFPC and obtained a CFPC Certificate of Added Competency in Care of the Elderly in 2016.
Dr. Poenn is passionate about his family, his community, and the natural wonders of Manitoulin Island, which allow him to maintain a lifelong interest in canoeing and kayaking. He chose to work in rural family medicine for the broad scope of practice—after 30 years on Manitoulin Island, he now finds himself caring for children of people whom he delivered when he first arrived. Remaining committed to the communities of Little Current and Wiikwemkoong First Nation has earned him the trust and confidence of its people, which he cites as the ultimate reward for his efforts.
Canada's Family Physicians of the Year –
The Reg L. Perkin Award
Since 1972, the CFPC and the Foundation for Advancing Family Medicine have honoured family physician members who exemplify the guiding principles of family medicine. Initially, one award recipient was selected to receive the Family Physician of the Year (FPOY) Award each year. Since 2002, 10 family physicians have been recognized annually—one representing each CFPC Chapter.
Canada's FPOYs are chosen by their peers, other health care colleagues, and community leaders for:
Providing exceptional care to their patients
Making meaningful contributions to the health and well-being of their communities
Dedicating themselves as researchers and educators of future generations of family doctors
FPOY recipients must exemplify the four principles of family medicine:
Be skilled clinicians
Be community based
Act as a resource to a practice population
Recognize the central importance of the doctor-patient relationship
CFPC Chapters review nominations and select the FPOY for their respective provinces. The provincial FPOYs are honoured at their respective Annual Scientific Assemblies or Annual General Meetings. The national FPOYs are honoured at the annual CFPC Family Medicine Forum.