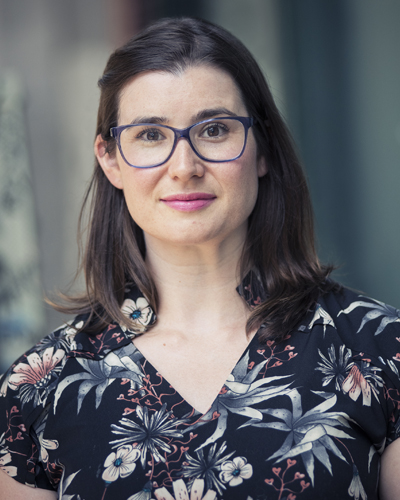 After completing her bachelor of science in chemistry at Mount Allison University, Dr. Christy Sutherland went on to complete her medical degree at Dalhousie University. She completed a family medicine residency at the University of British Columbia, where she is now a clinical assistant professor and serves as a preceptor and mentor to a variety of trainees, including fellows, medical residents, and medical students.
Dr. Sutherland serves as the Medical Director for the PHS Community Services Society, a non-profit based in Vancouver providing advocacy, housing, services, and opportunities for the most vulnerable of Vancouver's Downtown Eastside. In this role, she leads a team of physicians and nurses embedded in low-barrier, harm reduction projects. She has served as a physician on St. Paul's Hospital's Family Medicine Ward, an addiction physician on St. Paul's Hospital's Addiction Medicine Consult Team, and an addiction physician for Work Safe BC. As Education Physician Lead for the British Columbia Centre on Substance Abuse, Dr. Sutherland works collaboratively with other health care professionals, coordinators, and external stakeholders to provide leadership and support for education and training activities.
Dr. Sutherland was recently awarded the Excellence in Clinical Teaching Award from the St. Paul's Hospital GoldCorp Addiction Medicine Fellowship, where she is preceptor for individual fellows during their in-patient rotation and community electives. She a Diplomate of the American Board of Addiction Medicine and has participated in several research grants and initiatives throughout her career that have focused on improving the lives of vulnerable populations.
Canada's Family Physicians of the Year –
The Reg L. Perkin Award
Since 1972, the CFPC and the Foundation for Advancing Family Medicine have honoured family physician members who exemplify the guiding principles of family medicine. Initially, one award recipient was selected to receive the Family Physician of the Year (FPOY) Award each year. Since 2002, 10 family physicians have been recognized annually—one representing each CFPC Chapter.
Canada's FPOYs are chosen by their peers, other health care colleagues, and community leaders for:
Providing exceptional care to their patients
Making meaningful contributions to the health and well-being of their communities
Dedicating themselves as researchers and educators of future generations of family doctors
FPOY recipients must exemplify the four principles of family medicine:
Be skilled clinicians
Be community based
Act as a resource to a practice population
Recognize the central importance of the doctor-patient relationship
CFPC Chapters review nominations and select the FPOY for their respective provinces. The provincial FPOYs are honoured at their respective Annual Scientific Assemblies or Annual General Meetings. The national FPOYs are honoured at the annual CFPC Family Medicine Forum.