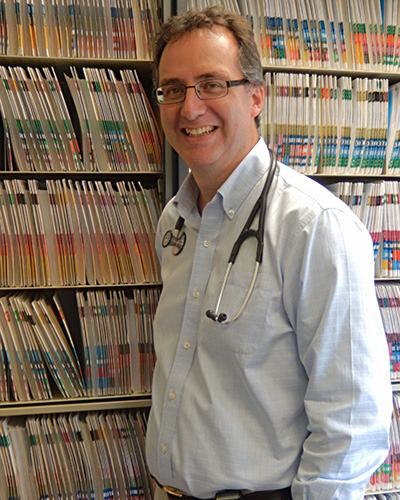 Dr Robert Kelley is the 2013 recipient of the Family Physician of the Year Award for Prince Edward Island (PEI). This award recognizes outstanding CFPC family physician members—one in each province—who exemplify the best of what being a family physician is all about.
A medical graduate of Dalhousie University, Dr Kelley completed his family medicine residency in Saint John, New Brunswick and in Halifax, Nova Scotia in 1996. That same year, he received Certification in Family Medicine. Dr Kelley also holds certificates in cardiac life support from McGill University, in Montreal, Quebec.
Dr Kelley began his medical career at Summerside Medical Centre in PEI, where he provided comprehensive family medicine, including obstetrics, and worked as an emergency room physician at Prince County Hospital. In 2000, he moved his practice to Charlottetown, where he continues today, also serving as house physician at the Prince Edward nursing home and as a staff physician at the Queen Elizabeth Hospital, the provincial correctional centre, and the provincial addiction services facility. Since 2010, Dr Kelley has served as core preceptor with the PEI Family Medicine Residency Program and has been a faculty member at Dalhousie University in Halifax, Nova Scotia, since 2011.
Actively involved in the community, Dr Kelley coaches the Charlottetown Abbies Midget A Girls Hockey Team and volunteered as a coach for the Charlottetown Abbies Soccer Club for two seasons. Since 2009, Dr Kelley has participated in the UPEI Ambassador Family Program for international students, a program that welcomes new Islanders into the homes of PEI residents for meals and a history lesson over the course of the school year.
Canada's Family Physicians of the Year – the Reg L. Perkin Awards

Since 1972, the CFPC and its Research & Education Foundation have honoured family physician members who exemplify the guiding principles of family medicine. Initially, one award recipient was selected to receive the Family Physician of the Year (FPOY) Award each year. Since 2002, ten family physicians have been recognized annually—one representing each CFPC Chapter.
Canada's FPOYs are chosen by their peers, other health care colleagues, and community leaders for:
Providing exceptional care to their patients
Making meaningful contributions to the health and well-being of their communities
Dedicating themselves as researchers and educators of future generations of family doctors
FPOY recipients must exemplify the four principles of family medicine:
Be skilled clinicians
Be community based
Act as a resource to a practice population
Recognize the central importance of the doctor-patient relationship
CFPC Chapters review nominations and select the FPOY for their respective provinces. The provincial FPOYs are honoured at their respective Annual Scientific Assemblies or Annual General Meetings. The national FPOYs are honoured at the annual CFPC Family Medicine Forum.