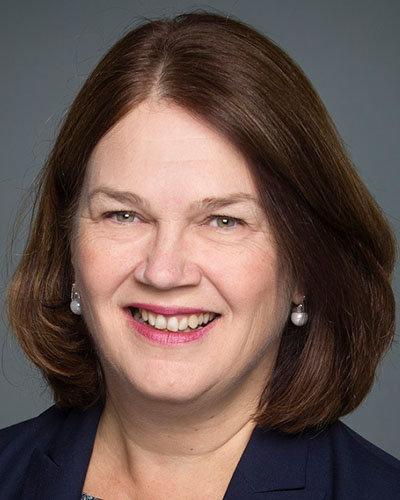 The Honourable Jane Philpott, PC, MP, serves as the Member of Parliament for the riding of Markham–Stouffville in Ontario and is the first medical doctor to be appointed federal minister of health in Canada. Prior to entering politics Dr Philpott was a family physician recognized for her influential work in medical education and global advocacy for individuals with HIV/AIDS. Dr Philpott studied medicine at Western University and in 1984 completed a family medicine residency at the University of Ottawa. In 2012 she completed a master's degree in public health at the University of Toronto.
As part of her international work, Dr Philpott helped develop a successful training program for village health workers in Niger Republic, West Africa, and was instrumental in establishing the first training program for family medicine in Ethiopia. She also founded the renowned fundraising campaign Give a Day to World AIDS. As Minister of Health, she has addressed issues pertaining to the resettling of 25,000 refugees as well as the federal coordination of efforts to help thousands of Canadians affected by the Northern Alberta wildfires. She also helped advance Bill C-14, reduce barriers to setting up safe injection sites, establish a pan-Canadian Pharmaceutical Alliance, and create legislation on medical marijuana.
Her longstanding role as a leader and advocate in the areas of refugee and Indigenous health care, fundraising, mental health initiatives, and social determinants of health is truly inspiring. Her passion for and commitment to bettering numerous areas of health care—on both a domestic and international front—make Dr Philpott a respected and prominent figure in the Canadian political realm and health care system.
CFPC Scotiabank Family Medicine Lectureship Award

The CFPC-Scotiabank Lectureship is supported by the CFPC, the Research and Education Foundation, and Scotiabank. It is awarded to an outstanding national or international figure who has contributed significantly to medicine, family medicine, and/or the health and well-being of the population in Canada or around the world.