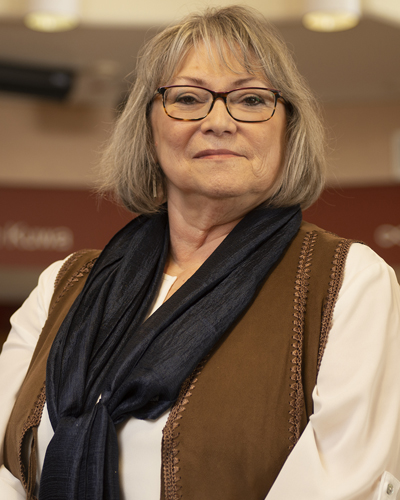 Having healthy families with healthy children in healthy communities is an optimal goal for every country in the world, and by practising family medicine Dr. Catherine Cook felt she could truly work toward achieving it, especially within Indigenous communities in Manitoba.
Dr. Cook obtained her medical degree and master of science from the University of Manitoba. As a Metis woman, she is proud to have had opportunities to support Indigenous communities as a family physician at nursing stations and small northern hospitals in Churchill and Norway House and at Percy E. Moore Hospital on the Peguis First Nation.
Several years of clinical practice in remote Indigenous communities awakened Dr. Cook to the realization that, in addition to the work of family physicians there, a review of policies specific to Indigenous health was needed. She saw that the jurisdictional ambiguity that surrounded Indigenous health services resulted in chronic underfunding, inequitable access to appropriate health services, disparities in access to specialist services, and chronic exposure to systemic racism. In addition to having practised as a clinician since 1989, Dr. Cook has spent the past two decades in academia and public health. She began public health practice as a means of raising awareness of the social determinants of health and of how disparate policies and marginalizing legislation have affected them, resulting in the health inequities that Indigenous people face.
As the inaugural Vice-President (Indigenous) at the University of Manitoba, Dr. Cook is able to influence the understanding of Indigenous history and contemporary issues in Canada. For her, how and what young people are taught about Indigenous people in Canada are critical to shaping the impact these future professionals will have on our country. She is passionate about the development of an anti-racism strategy with a focus on addressing anti- Indigenous, anti-Black, and anti-Asian racism to support the health and wellbeing of everyone in Canada.
Dr. Cook's leadership has been recognized with a Women's Executive Network's Canada's Most Powerful Women Top 100 award. She also received the May Cohen Equity, Diversity, and Gender Award from the Association of Faculties of Medicine of Canada as well as the Manitoba Service Excellence Award from the provincial government.
Calvin L. Gutkin Family Medicine Ambassador Award
The award recognizes a dynamic leader in Canadian family medicine distinguished for their vision, innovation, strong communication skills, and effective relationship building with national and international organizations and working groups that support and positively influence the everchanging role of the family physician and family medicine in Canada.