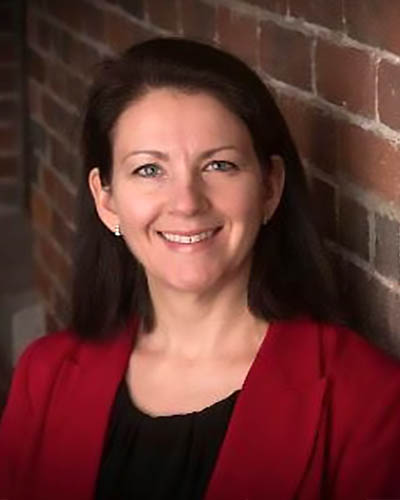 Dr. Karlyne Dufour has been practising family medicine in Moncton, New Brunswick, since 1996, providing in-patient care, home visits, on-call services, and office care. She has been academically involved with Dalhousie University's Department of Family Medicine since 1999, and has served as Postgraduate Program Director of Family Medicine since 2015.
A long-time educator and member of the College of Family Physicians of Canada's Section of Teachers, Dr. Dufour has held many leadership roles throughout her career. She currently chairs both the Family Medicine Residency Training Committee at Dalhousie and the Family Medicine Resident Education Planning Committee, and sits on several other committees both hospital- and academia-oriented.
A leader in her community and a doctor who is committed to patient-centred care, Dr. Dufour holds privileges at the Moncton Hospital, where the family medicine department has the largest responsibility, overseeing 180 of 380 beds. Her hospital practice focuses on high-acuity care, including caring for orphan patients, those in cardiac step-down, those discharged from the medical-surgical ICU, and those in pediatric care. She is well known among her colleagues as a superb clinician who is effective while being kind, patient, and truly interested in her patients' lives and experiences.
Dr. Dufour feels privileged to play such a significant role in her patients' lives, to work with a talented, supportive group of colleagues, and to teach and mentor medical trainees. She feels humbled, thankful, and privileged to receive this award, and feels a great sense of responsibility to live up to its expectations and be better every day.
Canada's Family Physicians of the Year –
The Reg L. Perkin Award

Since 1972, the CFPC and the Foundation for Advancing Family Medicine have honoured family physician members who exemplify the guiding principles of family medicine. Initially, one award recipient was selected to receive the Family Physician of the Year (FPOY) Award each year. Since 2002, 10 family physicians have been recognized annually—one representing each CFPC Chapter.
Canada's FPOYs are chosen by their peers, other health care colleagues, and community leaders for:
Providing exceptional care to their patients
Making meaningful contributions to the health and well-being of their communities
Dedicating themselves as researchers and educators of future generations of family doctors
FPOY recipients must exemplify the four principles of family medicine:
Be skilled clinicians
Be community based
Act as a resource to a practice population
Recognize the central importance of the doctor-patient relationship
CFPC Chapters review nominations and select the FPOY for their respective provinces. The provincial FPOYs are honoured at their respective Annual Scientific Assemblies or Annual General Meetings. The national FPOYs are honoured at the annual CFPC Family Medicine Forum.