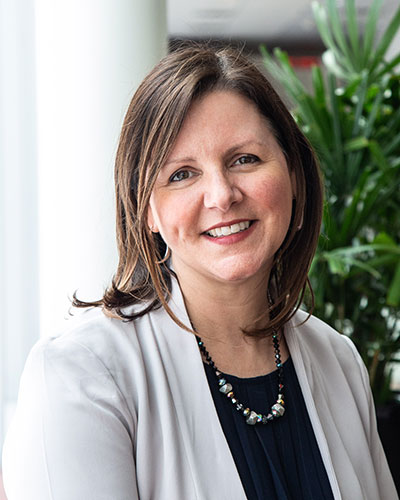 Dr. Jennifer Russell was inspired to pursue medicine early in life. Her brother had a debilitating medical condition and became a paraplegic as a teenager, which was devastating for the family. Growing up with him opened her eyes to the possibilities of preventive health and medicine and instilled an unshakeable sense of positivity in her. She graduated from medical school at Memorial University of Newfoundland and completed her residency in family medicine at Dalhousie University.
After receiving her Certification in the College of Family Physicians of Canada, Dr. Russell joined the Canadian Armed Forces and served as a family physician in the military for 10 years. She next took on roles with Veterans Affairs Canada and the Noreen-Richard Health Centre and worked as a hospitalist at Horizon Health.
For the past six years Dr. Russell has demonstrated her passion for preventive health and population health as New Brunswick's Chief Medical Officer of Health. Since hanging up her stethoscope, she says she misses seeing patients on a daily basis; however, she is delighted to be in a position where she is able to address population health issues and dig into the social determinants of health to improve the overall health of people in New Brunswick. She is also a fervent advocate for the well-being of family physicians and works to ensure that they are not only taking good care of their patients, but also of themselves. She is proud to champion work-life balance and mental health initiatives for family physicians across Canada.
As a member of the Council of Chief Medical Officers of Health, and other federal and provincial councils and committees, she has also been instrumental in implementing policy and educating stakeholders about substance use issues.
Since the start of the COVID-19 pandemic, Dr. Russell has been meeting regularly with chief medical officers of health across Canada to assess evolving evidence and guidance. As a public health spokesperson, she is proud of how the residents of New Brunswick have managed to flatten the curve across the province.
In addition to her calling as a medical professional, Dr. Russell is a trained musician. Before studying medicine, she studied music at Dalhousie University, and today she still plays the piano and saxophone and is the lead singer in the Jenn Russell Band. Additionally, she loves to read, hike, and spend time with her two children.
Canada's Family Physicians of the Year –
The Reg L. Perkin Award
Since 1972, the CFPC and the Foundation for Advancing Family Medicine have honoured family physician members who exemplify the guiding principles of family medicine. Initially, one award recipient was selected to receive the Family Physician of the Year (FPOY) Award each year. Since 2002, 10 family physicians have been recognized annually—one representing each CFPC Chapter.
Canada's FPOYs are chosen by their peers, other health care colleagues, and community leaders for:
Providing exceptional care to their patients
Making meaningful contributions to the health and well-being of their communities
Dedicating themselves as researchers and educators of future generations of family doctors
FPOY recipients must exemplify the four principles of family medicine:
Be skilled clinicians
Be community based
Act as a resource to a practice population
Recognize the central importance of the doctor-patient relationship
CFPC Chapters review nominations and select the FPOY for their respective provinces. The provincial FPOYs are honoured at their respective Annual Scientific Assemblies or Annual General Meetings. The national FPOYs are honoured at the annual CFPC Family Medicine Forum.