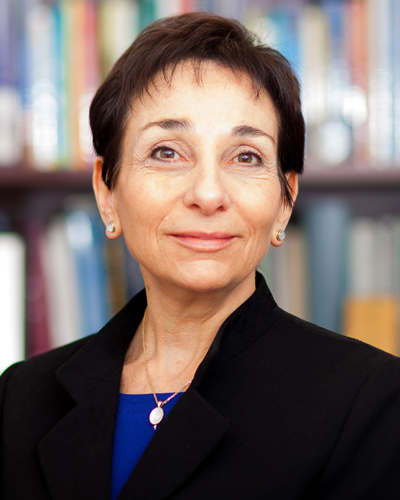 Dr. Eva Grunfeld completed medical school at McMaster University, a doctorate in epidemiology at Oxford University, and a diploma in acupuncture through the Nanjing University of Chinese Medicine.
Since 2008 Dr. Grunfeld has been the Giblon Professor and Vice-Chair, Research, in the Department of Family and Community Medicine at the University of Toronto. She is the Director of Knowledge Translation Research at the Ontario Institute for Cancer Research, staff physician at the CIBC Breast Centre at St. Michael's Hospital in Toronto, and a professor in the Dalla Lana School of Public Health at the University of Toronto. Her research focuses on the role of family physicians in the care of cancer patients. She leads two major research programs: CanIMPACT, a multidisciplinary team of researchers, clinicians, and policy-makers testing strategies to improve the coordination of cancer care; and the BETTER Program, which has developed and tested an approach to improve the prevention of and screening for cancer and other chronic diseases in family practice. She is also Chair of the Institute of Cancer Research advisory board within the Canadian Institutes of Health Research.
From the start of medical school Dr. Grunfeld knew she wanted to conduct research and be a family physician. She learned the importance of family medicine as a child following a severe motorcycle accident, when fragmented care led to confusion and worry. It was the coordination of her treatment led by a family doctor at the Herzl Family Medicine Clinic in Montreal that put her mind at ease. She is passionate about universal access to high-quality, publicly funded, patient-centred health care.
Lifetime Achievement in Family Medicine Research Award
These awards honour individuals who are trailblazers and leaders in family medicine research, and who have made a significant career contribution to family medicine research during their active career years. These awards give public recognition to both their work and to the discipline of family medicine.