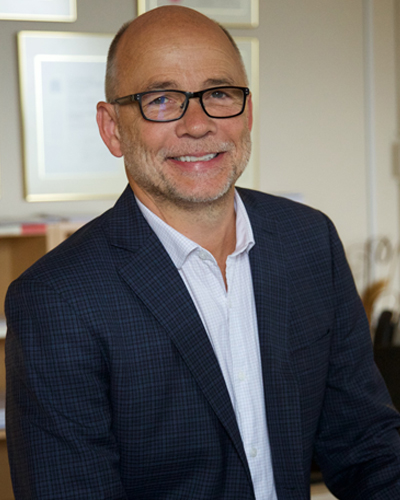 Dr. Martin Fortin received his medical degree from the University of Sherbrooke in 1983 and completed his family medicine residency there in 1985. He later received a master's degree in epidemiology from Laval University in 1997. Originally from Matane, he settled in Chicoutimi and helped establish the region's first university family medicine group (U-FMG). He is currently the director of research at the Centre intégré universitaire de santé et des services sociaux (CIUSSS) of Saguenay–Lac-Saint-Jean.
Throughout his career, Dr. Fortin has published more than 144 articles dealing primarily with chronic diseases and multimorbidity. As the holder of two research chairs in chronic diseases in primary care, he presented his results at almost 200 events and also supervised more than a dozen new researchers. In 2017 he was named Chair of the CFPC's Section of Researchers for a two-year term. His impact on research in family medicine extends well beyond our borders—he has shared his expertise with international family medicine groups, including as leader of the International Community of Multimorbidity since 2007.
Dr. Fortin received the title of TUTOR-PHC (Transdisciplinary Understanding and Training on Research in Primary Health Care) Fellow in 2003. He was awarded Fellowship in the College of Family Physicians of Canada in 1994, received a specialist's certificate in family medicine from the Collège des médecins du Québec in 2010, and was elected as a Fellow of the prestigious Canadian Academy of Health Sciences in 2017.
Dr. Fortin believes that family medicine is a comprehensive practice that allows a physician to accompany and provide support to all the members of a family, from the youngest to the oldest, for many years. He attaches particular importance to the role played by family physicians in supporting individuals with a disease, no matter how complex.
Family Medicine Researcher of the Year Award
This award, named in memory of Dr. Donald I. Rice, CFPC Executive Director from 1965 to 1985, recognizes an outstanding CFPC family physician member for their contributions to teaching, vision, and leadership in the discipline of family medicine.