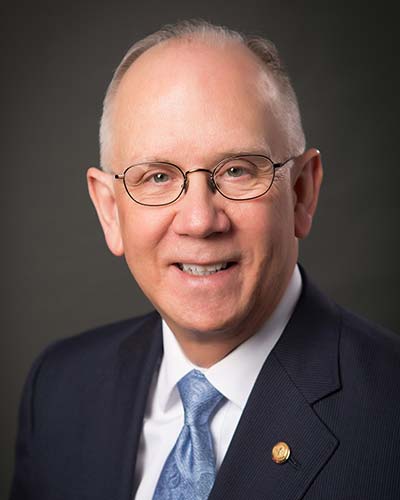 Dr. Douglas Henley has served as Executive Vice President and Chief Executive Officer for the American Academy of Family Physicians (AAFP) since 2000, where he works with a board of directors on the mission, strategy, and vision for the AAFP and serves as a trustee on the board of directors for the AAFP Foundation. He also serves as a founding member of the Board of Directors of the Patient-Centered Primary Care Collaborative and as a member of the Core Quality Measure Collaborative Steering Committee.
Prior to assuming his current position with the AAFP, Dr. Henley was in private practice for 20 years in his hometown of Hope Mills, North Carolina. He has been an AAFP physician member since 1973, served on the AAFP Board of Directors from 1991 to 1997—with two terms as Chair—and assumed the role of President from 1995 to 1996. He has served on numerous AAFP committees and commissions, dealing with a variety of subjects including legislation and governmental affairs, resident and student affairs, and public health and scientific activities. He is the first practising family physician to be named Executive Vice President and the first Past President and former Board Chair to assume the role.
Dr. Henley has held many leadership roles throughout his career including Commissioner of the American Health Information Community, which was formed to help advance the transition to electronic health records. He considers it a great honour and privilege to be part of the noble goal of working to achieve better and more affordable health care in the United States based on foundational family medicine.
Honorary Membership Award
Honorary Membership may be conferred upon individuals who are not family physicians in Canada. This honour recognizes physicians or members of the public who have made an outstanding contribution to the CFPC, the discipline of family medicine, the medical profession, or the health and well-being of the population in Canada and around the world.