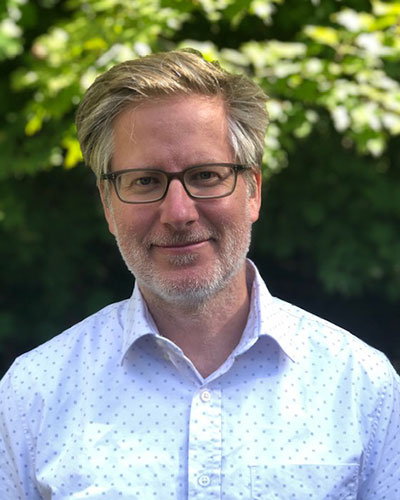 Dr. Curtis Handford was born and raised in Winnipeg, Manitoba. He completed his undergraduate medical studies at the University of Manitoba and was selected by his peers as the valedictorian of the class of 2001. He completed his residency in family and community medicine, a clinical fellowship in addiction medicine, and a Master of Health Science degree at the University of Toronto (U of T).
Early in his career Dr. Handford had the good fortune of being introduced to the compelling and inspirational writings of Dr. Ian McWhinney, which were pivotal in helping him understand the key skills of generalist physicians and their role in the health care system.
Dr. Handford is deeply committed to learning about his patients as people. His devotion to his patients and his appreciation of their individual and social circumstances sit at the core of his ability to deliver compassionate and holistic patient-centred care.
Dr. Handford's practice is based in an academic family medicine environment, where he has long been involved in teaching and scholarship. Over the years Dr. Handford has supervised countless medical learners through various stages of training. He works in a stimulating environment full of brilliant and passionate colleagues and co-workers who make is impossible for him not to want to give it his best every day.
For nearly a decade Dr. Handford was co-director of the Academic Fellowship and Graduate Studies programs in the Department of Family and Community Medicine at U of T, where he contributed to the development of the innovative Master of Public Health in Family and Community Medicine Program. From 2016 to 2020 he was the Primary Care Clinical Lead for the Mid-East Toronto Sub-Region of the Toronto Central Local Health Integration Network.
He is currently an associate professor at U of T, and he is Deputy Chief in the Department of Family and Community Medicine and Medical Director of the Primary and Community Care Program at St. Michael's Hospital in Toronto.
Dr. Handford lives in Toronto with his wife and two daughters. He describes himself as a retired, low-skill, recreational hockey player and a passionate fan of the Winnipeg Jets. In his spare time Dr. Handford enjoys reading, trying to be handy around the house, and being active outdoors with his family.
Canada's Family Physicians of the Year –
The Reg L. Perkin Award
Since 1972, the CFPC and the Foundation for Advancing Family Medicine have honoured family physician members who exemplify the guiding principles of family medicine. Initially, one award recipient was selected to receive the Family Physician of the Year (FPOY) Award each year. Since 2002, 10 family physicians have been recognized annually—one representing each CFPC Chapter.
Canada's FPOYs are chosen by their peers, other health care colleagues, and community leaders for:
Providing exceptional care to their patients
Making meaningful contributions to the health and well-being of their communities
Dedicating themselves as researchers and educators of future generations of family doctors
FPOY recipients must exemplify the four principles of family medicine:
Be skilled clinicians
Be community based
Act as a resource to a practice population
Recognize the central importance of the doctor-patient relationship
CFPC Chapters review nominations and select the FPOY for their respective provinces. The provincial FPOYs are honoured at their respective Annual Scientific Assemblies or Annual General Meetings. The national FPOYs are honoured at the annual CFPC Family Medicine Forum.