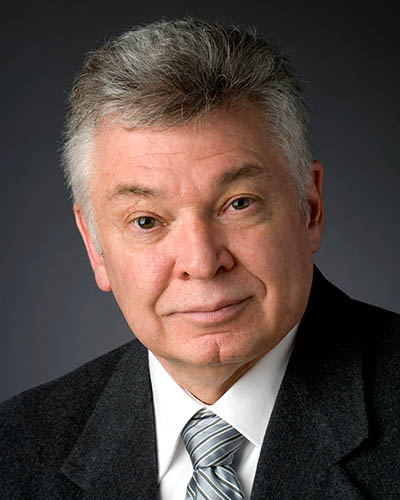 Dr. Bruce Martin is considered a visionary for advancing health care by working with an interprofessional team and developing innovative responses to health issues in northern Manitoba. After a 30-year career dedicated to providing a wide spectrum of Northern and Indigenous health care—including clinical service, administration, research, and education—his clinical activities are now divided between team-based palliative care and pediatric palliative care in both hospital and home environments.
In addition to his clinical practice, Dr. Martin is extensively involved in leadership and education with the University of Manitoba's Max Rady College of Medicine as the Postgraduate Family Medicine Program Director and Director of Admissions for undergraduate medicine. In these roles he focuses on enhancing the enrolment of students who are historically under-represented in medicine to increase the diversity of future family physicians to best meet the needs of patients and their communities. Dr. Martin is a tireless mentor for students and colleagues. One letter of support for his nomination states that "his expectations are very high, but his gift is helping us learn how to reach that bar."
With a continuing interest in public health, Dr. Martin graduated with a master of science in community health science from the University of Manitoba in 2003. His thesis focused on the provision of palliative care to remote Inuit communities in Canada.
Dr. Martin says he feels honoured and blessed to receive this award, but notes his mentors, patients, colleagues, students, and family are all equally deserving, as they helped shape who he has become along the continuum of his career.
Canada's Family Physicians of the Year –
The Reg L. Perkin Award

Since 1972, the CFPC and the Foundation for Advancing Family Medicine have honoured family physician members who exemplify the guiding principles of family medicine. Initially, one award recipient was selected to receive the Family Physician of the Year (FPOY) Award each year. Since 2002, 10 family physicians have been recognized annually—one representing each CFPC Chapter.
Canada's FPOYs are chosen by their peers, other health care colleagues, and community leaders for:
Providing exceptional care to their patients
Making meaningful contributions to the health and well-being of their communities
Dedicating themselves as researchers and educators of future generations of family doctors
FPOY recipients must exemplify the four principles of family medicine:
Be skilled clinicians
Be community based
Act as a resource to a practice population
Recognize the central importance of the doctor-patient relationship
CFPC Chapters review nominations and select the FPOY for their respective provinces. The provincial FPOYs are honoured at their respective Annual Scientific Assemblies or Annual General Meetings. The national FPOYs are honoured at the annual CFPC Family Medicine Forum.