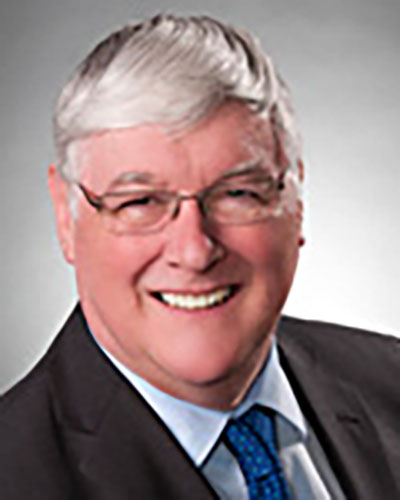 For Dr. Andrew Cave, the anticipation of every new day in the clinic is energizing. He says the best part of family medicine is the long-standing relationships he establishes with his patients, which he values just as much as those with his clinic partners, colleagues from other disciplines, and other team members.
Born in England, Dr. Cave obtained his medical degree from the University of Manchester in 1971 and began his career in health care as a surgical trainee. While doing general practice locums, he decided to leave surgery to complete training in family medicine on an island in western Scotland, where he says he learned what continuity and comprehensive care really meant. He went on to work in a semi-rural practice in southwest England, which taught him how to truly be part of a community and a resource for it. From running the cottage hospital to making house calls, providing treatment in nursing homes, attending roadside accidents, and delivering babies, family doctors did it all.
Dr. Cave came to Canada in 1987 to complete a Master of Clinical Science in advanced health care practice before earning his Certification in the College of Family Physicians of Canada (CCFP) and settling in Edmonton in 1989. He is a professor of family medicine at the University of Alberta, where he teaches small groups of medical students and supervises family medicine residents in the clinic.
A leader in family medicine research in asthma, chronic obstructive pulmonary disease (COPD), primary care teamwork, and clinical pharmacy at regional, national, and international levels, Dr. Cave aims to teach awareness of rare diseases in primary care such as alpha-1 antitrypsin deficiency, Fabry disease, and Pompe disease. He has a particular interest in respiratory research and education, and he holds a weekly asthma and COPD primary care clinic with a respiratory therapist who performs spirometry and provides patient education. Today, he is particularly dedicated to research related to COVID-19.
As a board member of the MSI Foundation, an Alberta-based organization that supports research on the delivery of health care services in the province, Dr. Cave reviews grant applications for early-career researchers. He is also a member of Alberta Health Services' Respiratory Health Strategic Clinical Network, whose goal is to improve care in this domain in Alberta.
Dr. Cave and his wife have three grown children, of whom two live in Canada and one lives in Europe.
Canada's Family Physicians of the Year –
The Reg L. Perkin Award
Since 1972, the CFPC and the Foundation for Advancing Family Medicine have honoured family physician members who exemplify the guiding principles of family medicine. Initially, one award recipient was selected to receive the Family Physician of the Year (FPOY) Award each year. Since 2002, 10 family physicians have been recognized annually—one representing each CFPC Chapter.
Canada's FPOYs are chosen by their peers, other health care colleagues, and community leaders for:
Providing exceptional care to their patients
Making meaningful contributions to the health and well-being of their communities
Dedicating themselves as researchers and educators of future generations of family doctors
FPOY recipients must exemplify the four principles of family medicine:
Be skilled clinicians
Be community based
Act as a resource to a practice population
Recognize the central importance of the doctor-patient relationship
CFPC Chapters review nominations and select the FPOY for their respective provinces. The provincial FPOYs are honoured at their respective Annual Scientific Assemblies or Annual General Meetings. The national FPOYs are honoured at the annual CFPC Family Medicine Forum.