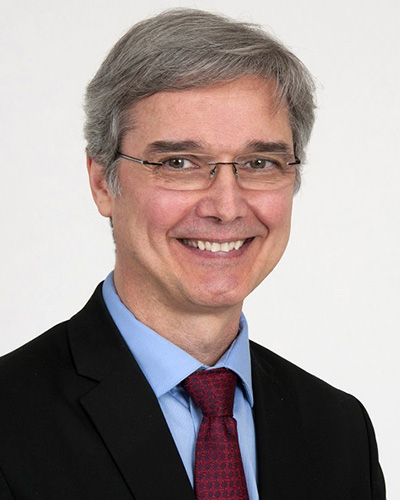 Dr. Alain Naud is a family physician and clinical professor in the Department of Family and Emergency Medicine at Laval University in Québec, Quebec. He has practised palliative medicine for 31 years. Dr. Naud made his mark as one of the first physicians in Canada to speak publicly about his experiences with medical aid in dying after Quebec's Act Respecting End-of-Life Care came into effect.
Originally from Portneuf, Quebec, Dr. Naud completed his residency at Laval University in 1986 and began practising in Shawinigan. He then joined the Family Medicine Unit at Saint-François d'Assise Hospital and the Centre hospitalier universitaire de Québec (CHUQ) in 1990. Dr. Naud has held several leadership positions in hospital and academic settings during his career. Most notably, he was a member of the Council of Physicians, Dentists and Pharmacists at CHUQ, and he chaired the council from 2012 to 2015. He was elected to the Collège des médecins du Québec Board of Directors in 2016.
Over the past few years, Dr. Naud has worked to increase physician and public awareness of medical aid in dying so that end-of-life patients who wish to access this form of care are able to do so legally. In addition to providing his experiences with and thoughts on the subject during media interviews, he has led several training sessions for colleagues and future physicians. As a proud defender of the human right to dignity and compassion in accessing health care, Dr. Naud uses a scientific and humanistic approach to manage his patients. Exceptionally devoted to his patients, he is a well-respected physician and inspirational role model in Canadian palliative care.
TD Insurance Spotlight on Achievement Award
The TD Insurance Spotlight on Achievement Award is bestowed on an outstanding national or international figure who has contributed significantly to medicine, family medicine, and/or the health and well-being of the population in Canada and/or around the world.
Recipients have articulated the unique sphere of influence of family physicians as agents of change in communities and the importance of health care policies in supporting this role. The Spotlight may take the form of a keynote presentation, discussion panel, or debate.