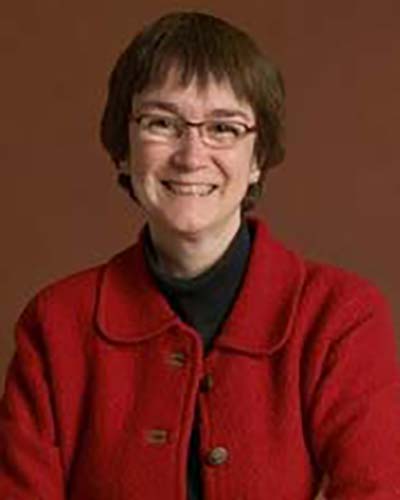 Dr. Louise Champagne's health care career began in 1978 in Sept-Îles, Quebec, where she was a nurse for eight years before beginning her medical studies at Laval University. Her interests included everything from pediatrics to intensive and palliative care. Driven by a desire to be involved in all aspects of medicine and particularly to establish ongoing and meaningful relationships with her patients, Dr. Champagne chose to do her residency in family medicine.
Upon completing her studies in 1992 Dr. Champagne returned to Sept-Îles, where she worked for 12 years with a diverse population of patients of all ages. She also taught residents and interns who were completing their training in family medicine in this remote area. In 2004 she moved to Saint-Lambert, where she accepted a position in the family medicine unit at Charles-LeMoyne Hospital; she became unit director in 2019. Between monitoring her patients, sitting on the Editorial Committee of the journal Le Médecin du Québec, and working on various other projects, Dr. Champagne continues to supervise future family physicians and nurse practitioners daily. Dr. Champagne is also the assistant director of the family medicine program at the University of Sherbrooke, for which she is helping create university-level interprofessional clinical training units on the topics of home care and long-term care facilities.
In her view, the most wonderful part of her job is caring for patients from birth to the end of life—including as many as three generations in one family! She also enjoys passing along her knowledge to the students and residents she takes under her wing, especially those who are experiencing difficulties. Her colleagues and patients appreciate her dedication to those in her care and to students, and they consider her a role model for all family physicians.
Canada's Family Physicians of the Year –
The Reg L. Perkin Award
Since 1972, the CFPC and the Foundation for Advancing Family Medicine have honoured family physician members who exemplify the guiding principles of family medicine. Initially, one award recipient was selected to receive the Family Physician of the Year (FPOY) Award each year. Since 2002, 10 family physicians have been recognized annually—one representing each CFPC Chapter.
Canada's FPOYs are chosen by their peers, other health care colleagues, and community leaders for:
Providing exceptional care to their patients
Making meaningful contributions to the health and well-being of their communities
Dedicating themselves as researchers and educators of future generations of family doctors
FPOY recipients must exemplify the four principles of family medicine:
Be skilled clinicians
Be community based
Act as a resource to a practice population
Recognize the central importance of the doctor-patient relationship
CFPC Chapters review nominations and select the FPOY for their respective provinces. The provincial FPOYs are honoured at their respective Annual Scientific Assemblies or Annual General Meetings. The national FPOYs are honoured at the annual CFPC Family Medicine Forum.