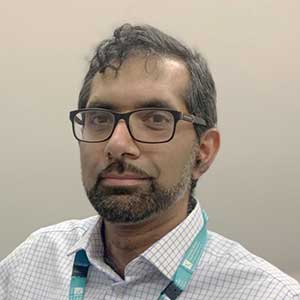 Dr. Mohammed Hussain
Project lead
Mohammed Hussain, MD, CCFP, Canadian Mental Health Association Health Centre
---
Project location
Windsor, Ontario
---
Project summary
Early in the pandemic there was concern that emergency departments would be overwhelmed by COVID-19 patients, and an alternate location for individuals to receive urgent mental health and addiction support would best serve community need.
In response Dr. Mohammed Hussain, along with Hôtel-Dieu Grace Healthcare and the Canadian Mental Health Association Windsor-Essex Branch, established a Mental Health and Addiction Urgent Care Centre (MHAUCC) to provide in-person and virtual mental health and addiction support in downtown Windsor.
The centre operates as a drop-in clinic and is having a positive impact on connecting vulnerable patients to ongoing mental health and addiction services and resources.
On-site crisis social workers and addiction counsellors, supported by on-call urgent psychiatric care, provide specialized and integrated care to the community.
The MHAUCC is having a positive impact in the Windsor community through enhancing access to care for clients, including many young people experiencing mental health and addiction related issues for the first time.
For more information on this project, its partners and collaborators.