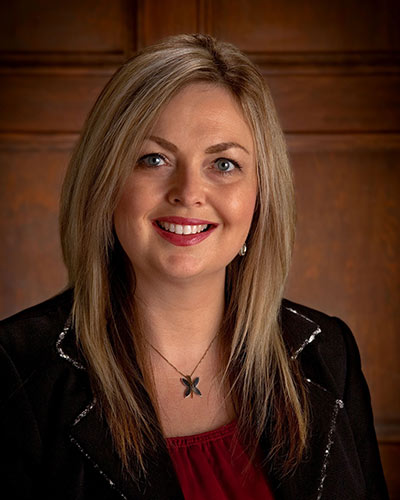 "Family medicine is one of the most difficult things I have ever done. Family medicine is also one of the most rewarding things I have ever done. It is always an honour and a privilege to make a real difference in the lives of your patients. It's been the most rewarding career!"
Dr. Wendy Graham has been a family physician for 22 years. In that time she has had a tremendous impact on her community, including through the promotion of rural medicine and distributed medical education.
A family physician in Channel-Port aux Basques, Newfoundland and Labrador, Dr. Graham epitomizes the rural general practitioner, working closely with her local community. She practises a broad scope of family medicine, which includes providing chemotherapy, hospitalist, palliative, and end-of-life care for her patients. Since the onset of the COVID-19 pandemic she has routinely made house calls because many patients have been hesitant to venture out from their homes for care. Dr. Graham provides acute and long-term care at the Dr. Charles L. LeGrow Health Centre.
Dr. Graham is an associate professor in the Discipline of Family Medicine at Memorial University of Newfoundland, a position she has held since 2000. Recognizing the importance of hands-on learning, she has helped actualize a stream concept of family medicine training within the community and position Channel-Port aux Basques as a vibrant teaching hub for medical students and residents.
After completing her medical training at Memorial University of Newfoundland, Dr. Graham also did her family medicine residency training there. Her research and faculty development team teach research skills to physicians practising in rural and remote areas. She has spent much of her career in leadership positions supporting health policy, governance, and system reform.
Canada's Family Physicians of the Year –
The Reg L. Perkin Award
Since 1972, the CFPC and the Foundation for Advancing Family Medicine have honoured family physician members who exemplify the guiding principles of family medicine. Initially, one award recipient was selected to receive the Family Physician of the Year (FPOY) Award each year. Since 2002, 10 family physicians have been recognized annually—one representing each CFPC Chapter.
Canada's FPOYs are chosen by their peers, other health care colleagues, and community leaders for:
Providing exceptional care to their patients
Making meaningful contributions to the health and well-being of their communities
Dedicating themselves as researchers and educators of future generations of family doctors
FPOY recipients must exemplify the four principles of family medicine:
Be skilled clinicians
Be community based
Act as a resource to a practice population
Recognize the central importance of the doctor-patient relationship
CFPC Chapters review nominations and select the FPOY for their respective provinces. The provincial FPOYs are honoured at their respective Annual Scientific Assemblies or Annual General Meetings. The national FPOYs are honoured at the annual CFPC Family Medicine Forum.