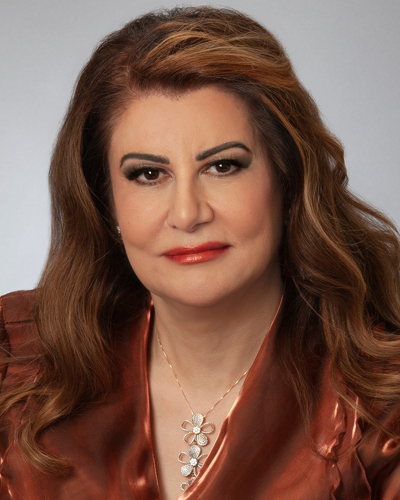 From an early age, Dr. Razawa Maroof dreamed of becoming a doctor. This dream came true in 1986, when she received her medical degree from the University of Salaheddin. She then went on to pursue a residency in obstetrics and gynecology, obtaining her diploma from the University of Baghdad in 1995.
Due to ongoing turmoil in her birth country, she immigrated to Canada as a refugee. In 2002 Dr. Maroof was awarded Certification in the College of Family Physicians of Canada (CCFP) and then awarded Fellowship in the College of Family Physicians (FCFP) in 2013.
As a single parent adapting to a new culture and lifestyle, life was initially difficult for Dr. Maroof. But in time, she was able to build a group of friends and colleagues and started her practice at the Regina Community Clinic. She currently works at the same clinic alongside a team of talented and kind-hearted physicians, staff, and nurses.
Starting in 2019 Dr. Maroof began also practising at the Chronic Pain Clinic, treating patients who deal with chronic pain and opioid use disorder. During this time she acquired training and certification to use neuromodulators. This allows her to treat migraine headaches and temporomandibular joint (TMJ) dysfunction. Given her triumphs and experiences a considerable number of Dr. Maroof's patients consist of immigrants, women, and refugees.
At the Regina Community Clinic Dr. Maroof is the physician lead for the Refugee Health Committee. She frequently gives refugee health lectures to family medicine and psychiatry residents. As a volunteer mentor, she participated every Saturday between 2010 and 2013 in the SEARCH program for medical, pharmacy, and social work students to help better the lives of the people in her community.
Dr. Maroof was the clinical assistant professor at the University of Saskatchewan, between 2006 and 2013, and was appointed associate professor in 2015. She primarily teaches clinical skills, advanced communication skills, and general medicine.
Kindness, professionalism, mentorship, and family are the cornerstones that make up Dr. Razawa Maroof—her dedication to these four ideals is what drives her.
Canada's Family Physicians of the Year –
The Reg L. Perkin Award
Since 1972, the CFPC and the Foundation for Advancing Family Medicine have honoured family physician members who exemplify the guiding principles of family medicine. Initially, one award recipient was selected to receive the Family Physician of the Year (FPOY) Award each year. Since 2002, 10 family physicians have been recognized annually—one representing each CFPC Chapter.
Canada's FPOYs are chosen by their peers, other health care colleagues, and community leaders for:
Providing exceptional care to their patients
Making meaningful contributions to the health and well-being of their communities
Dedicating themselves as researchers and educators of future generations of family doctors
FPOY recipients must exemplify the four principles of family medicine:
Be skilled clinicians
Be community based
Act as a resource to a practice population
Recognize the central importance of the doctor-patient relationship
CFPC Chapters review nominations and select the FPOY for their respective provinces. The provincial FPOYs are honoured at their respective Annual Scientific Assemblies or Annual General Meetings. The national FPOYs are honoured at the annual CFPC Family Medicine Forum.