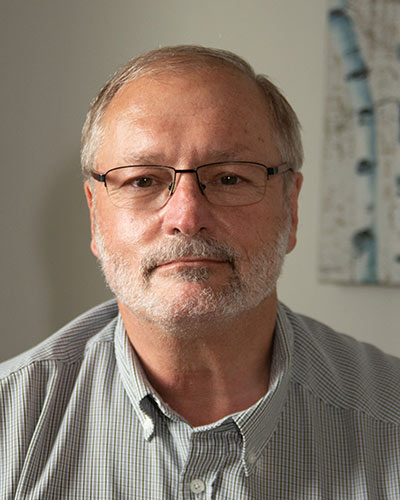 "Stay open to any opportunities that there may be to meet and be inspired by inspiring people, because it truly is an extraordinary wealth."
Over the past 40 years Dr. Mario Dubuc has distinguished himself through his medical knowledge, compassion, innovative ideas, collaborative spirit, interest in pedagogy, and profound dedication to his patients.
Dr. Dubuc received his medical degree from the University of Sherbrooke in 1979 and completed his family medicine residency in 1981. Upon the completion of his studies, he founded the Clinique Médicale Belvédère (now the Groupe de médecine de famille Belvédère). He is the last of five co-founders still on the clinic's medical team, where he holds the position of medical director.
His numerous achievements have shown Dr. Dubuc to be a true leader and builder in family medicine. At the Centre hospitalier universitaire de Sherbrooke–Hôtel-Dieu de Sherbrooke, where he has also practised throughout his career, Dr. Dubuc led a multidisciplinary team responsible for creating a palliative care unit in 1987. After heading that unit and training residents in family medicine other specialties for several years, he continues to serve on call there. In the context of his work in palliative care, he also organized medical services at the Maison Aube-Lumière, the first palliative care hospice in the Eastern Townships.
Dr. Dubuc is passionate about his clinical teaching at the University of Sherbrooke Faculty of Medicine and fosters a trusting environment for his students. He teaches the importance of relational competencies for family physicians as a means of forming strong relationships with patients and applying the principles of shared decision making.
Canada's Family Physicians of the Year –
The Reg L. Perkin Award
Since 1972, the CFPC and the Foundation for Advancing Family Medicine have honoured family physician members who exemplify the guiding principles of family medicine. Initially, one award recipient was selected to receive the Family Physician of the Year (FPOY) Award each year. Since 2002, 10 family physicians have been recognized annually—one representing each CFPC Chapter.
Canada's FPOYs are chosen by their peers, other health care colleagues, and community leaders for:
Providing exceptional care to their patients
Making meaningful contributions to the health and well-being of their communities
Dedicating themselves as researchers and educators of future generations of family doctors
FPOY recipients must exemplify the four principles of family medicine:
Be skilled clinicians
Be community based
Act as a resource to a practice population
Recognize the central importance of the doctor-patient relationship
CFPC Chapters review nominations and select the FPOY for their respective provinces. The provincial FPOYs are honoured at their respective Annual Scientific Assemblies or Annual General Meetings. The national FPOYs are honoured at the annual CFPC Family Medicine Forum.