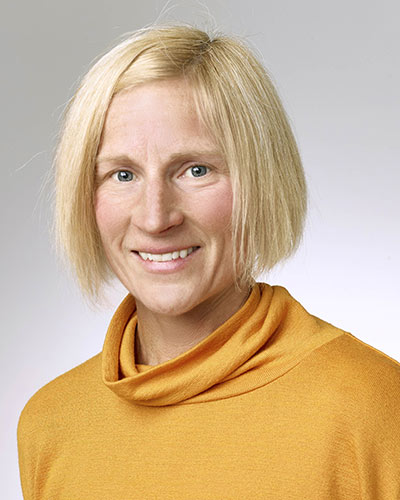 "Being able to work in an environment that accepts clients where they are and understanding the drivers that impact the ability for some people to communicate and form healthy relationships are what drive me in my work."
Dr. Kerri Treherne has dedicated her 25-year career to providing holistic care to vulnerable populations in Calgary. Since 1996 she has worked as a family physician at the Alex, a non-profit health and social services organization, and currently serves as its medical director.
At the Alex, Dr. Treherne is known for her ability to establish meaningful relationships with her patients, many of whom have struggled to form trusting connections with health care providers. Colleagues describe her as
an effective advocate for the provision of comprehensive care for her patients. She works tirelessly to help patients get the care they need and access social and community support. Her actions during the COVID-19 pandemic reflect Dr. Treherne's commitment to her patients. In March 2020, in response to a gap in care for individuals experiencing homelessness, Dr. Treherne helped establish Calgary's
Assisted Self-Isolation Site (ASIS). The facility is designed to provide clinical and mental health care to individuals who are self-isolating due to COVID-19 symptoms. With her guidance, ASIS was up and running within two weeks of its conception. It has helped divert countless patients from acute care facilities, provided care for many unmet medical needs, and helped several clients access housing and treatment programs.
Dr. Treherne completed her medical degree at the University of Alberta and her family medicine residency at the University of Calgary. She received her Certification in the College of Family Physicians of Canada in 1996 and Fellowship in the College of Family Physicians of Canada in 2006. She is on the Alberta College of Family Physicians steering committee for the Collaborative Mentorship Network (CMN). Through the CMN Dr. Treherne hopes to build a network of physicians who are able to support each other in improving physician wellness and enhancing their ease in managing patients with complex conditions.
In addition to her work as a family physician, Dr. Treherne is an active volunteer, giving her time to initiatives ranging from revitalization projects with her community association to local flood emergency planning and relief efforts. One of the largest public space revitalization projects she has helped lead, Bow to Bluff, won a national planning award and is now being constructed in her community.
Canada's Family Physicians of the Year –
The Reg L. Perkin Award
Since 1972, the CFPC and the Foundation for Advancing Family Medicine have honoured family physician members who exemplify the guiding principles of family medicine. Initially, one award recipient was selected to receive the Family Physician of the Year (FPOY) Award each year. Since 2002, 10 family physicians have been recognized annually—one representing each CFPC Chapter.
Canada's FPOYs are chosen by their peers, other health care colleagues, and community leaders for:
Providing exceptional care to their patients
Making meaningful contributions to the health and well-being of their communities
Dedicating themselves as researchers and educators of future generations of family doctors
FPOY recipients must exemplify the four principles of family medicine:
Be skilled clinicians
Be community based
Act as a resource to a practice population
Recognize the central importance of the doctor-patient relationship
CFPC Chapters review nominations and select the FPOY for their respective provinces. The provincial FPOYs are honoured at their respective Annual Scientific Assemblies or Annual General Meetings. The national FPOYs are honoured at the annual CFPC Family Medicine Forum.