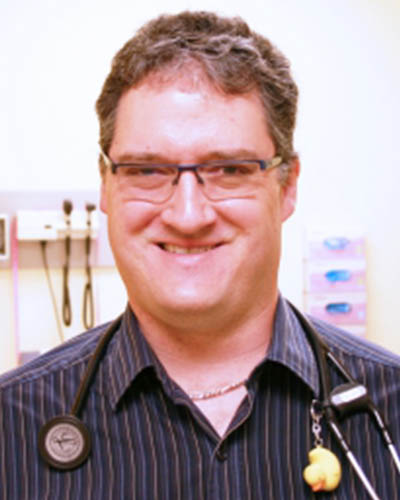 An ardent defender of patient-centred services and timely access, Dr. Jean-Pierre Arseneau has practised family medicine in New Brunswick for 22 years. He graduated from the University of Moncton Faculty of Medicine in 1992 and completed his residency in the University of Sherbrooke (Moncton) family medicine program in 1994. In 1998 he co-founded the Clinique Médicale Nepisiguit, a teaching and clinical centre serving nearly 18,000 patients, which he continues to manage. Since 2005 he has implemented the Patient's Medical Home principles in his practice, prioritizing patient-centred access to services.
Dr. Arseneau is medical education coordinator for the Réseau de Santé Nord'Est and has trained many health care professionals at his clinic. He is currently researching integrating healthy eating habits and exercise to better control diabetes and obesity. Through this project, as well as his activities with the Réseau de santé Vitalité and Choosing Wisely Canada, Dr. Arseneau has accomplished extraordinary work in the prevention of chronic illnesses. He is also actively involved in the family physician community and served as New Brunswick College of Family Physicians' president in 2008/09.
Having dreamed of becoming a family physician in his native Nepisiguit since childhood, Dr. Arseneau considers his achievements to be the culmination of a well-planned and highly engaged career working in a domain that he loves. He is very proud of his Patient's Medical Home team, which has allowed him to achieve his vision for accessible, integrated, and prevention-centred health care services. His motto—to succeed you must first begin—summarizes well the proactive thinking that supports his efforts and achievements.
Jean-Pierre Despins Award

This award is named in memory of Dr. Jean-Pierre Despins, past CFPC president (1995–1996) and past chair of the Board of the CFPC's Research and Education Foundation (1999–2000)(now the Foundation for Advancing Family Medicine). The award is presented annually to honour a CFPC family physician member who has been identified as an outstanding advocate and public spokesperson for both family medicine and family physicians and their patients.