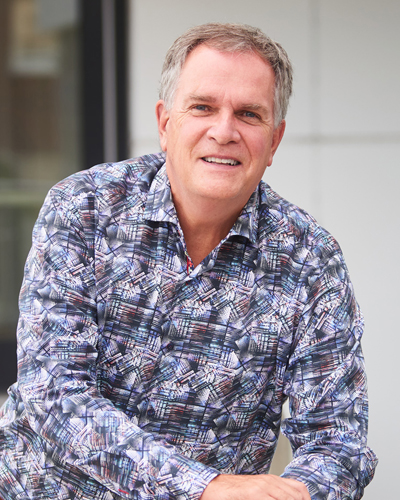 After receiving his medical degree from the University of Montreal in 1982, Dr. Gilles Brousseau completed his postgraduate training at the Centre hospitalier de Verdun (Verdun Hospital) before settling in Gatineau, where he has been practising family medicine since 1983.
Until September 2016 he was part of the medical team at the Saint-Alexandre Family Medicine Group and also worked in the emergency room and with hospital patients. Dr. Brousseau is particularly interested in computerization and was involved in studying and developing electronic medical records, serving on several expert committees.
Dr. Brousseau was appointed assistant professor at McGill University in 1990 and has been heavily involved in the clinical teaching of medical students and family medicine residents for many years. In his role as assistant dean of medical education for the Outaouais Region, Dr. Brousseau led the McGill University Faculty of Medicine and Health Sciences' Campus Outaouais project, where programs are offered entirely in French. He also oversaw the development of the integrated clerkship program in Gatineau, which has been highly successful since its launch in 2010. Under his leadership, the Gatineau family medicine unit underwent significant expansion from 1990 to 2007 and is now one of McGill University's most active affiliated teaching sites outside of Montreal. In 2014 Dr. Brousseau was awarded the MSW Excellence in the Learning Environment Award, an honour bestowed by his students at McGill.
Dr. Brousseau believes that family medicine is a specialty that ensures that patients of all ages receive comprehensive care by leveraging a vast array of knowledge, skills, and competencies in many fields. He views empathy, the ability to listen, the provision of support, decision support, and clinical pertinence as values that characterize a good family physician.
Canada's Family Physicians of the Year –
The Reg L. Perkin Award
Since 1972, the CFPC and the Foundation for Advancing Family Medicine have honoured family physician members who exemplify the guiding principles of family medicine. Initially, one award recipient was selected to receive the Family Physician of the Year (FPOY) Award each year. Since 2002, 10 family physicians have been recognized annually—one representing each CFPC Chapter.
Canada's FPOYs are chosen by their peers, other health care colleagues, and community leaders for:
Providing exceptional care to their patients
Making meaningful contributions to the health and well-being of their communities
Dedicating themselves as researchers and educators of future generations of family doctors
FPOY recipients must exemplify the four principles of family medicine:
Be skilled clinicians
Be community based
Act as a resource to a practice population
Recognize the central importance of the doctor-patient relationship
CFPC Chapters review nominations and select the FPOY for their respective provinces. The provincial FPOYs are honoured at their respective Annual Scientific Assemblies or Annual General Meetings. The national FPOYs are honoured at the annual CFPC Family Medicine Forum.