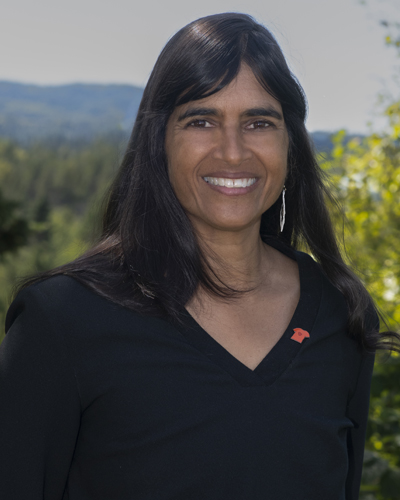 Dr. Anjali Oberai received her undergraduate medical degree from the University of Ottawa in 1993 and shortly after completed her family medicine residency at the University of Calgary.
In 1998 in Wawa, Ontario, Dr. Anjali Oberai began practice as a rural generalist with a keen interest in exercise stress testing and antimicrobial stewardship in a rural setting. Before 1998, Dr. Oberai was a locum physician in rural Albert, Ontario, and what is now Nunavut. Through her interest in antimicrobial stewardship, she has taken on the co-chair role at Public Health Ontario (PHO)'s Antibiotic Stewardship Advisory Committee. This promotes antimicrobial stewardship as an effective strategy for reducing inappropriate and excessive antimicrobial use while improving and optimizing antimicrobial therapy and patient clinical outcomes.
During the Northern Ontario School of Medicine (NOSM) University's recent Northern Constellations conference, Dr. Oberai was honoured with the Community Champion Award. This accolade highlighted her active involvement in NOSM University teaching undergraduate and postgraduate learners and her contributions as co-section chair for family medicine.
Dr. Oberai had many inspiring mentors and colleagues along the way, particularly when she first moved to Wawa, who encouraged and supported her in practising full-scope medicine. Dr. Oberai and her husband raised two incredible children in Wawa, and she is grateful to call Wawa her home. Her service to her community spans over 25 years, and for this great milestone she was honoured with the Society of Rural Physicians' Long Service Award. Outside work, Dr. Oberai loves exploring the outdoors and enjoying the best of rural life.
Canada's Family Physicians of the Year –
The Reg L. Perkin Award
Since 1972, the CFPC and the Foundation for Advancing Family Medicine have honoured family physician members who exemplify the guiding principles of family medicine. Initially, one award recipient was selected to receive the Family Physician of the Year (FPOY) Award each year. Since 2002, 10 family physicians have been recognized annually—one representing each CFPC Chapter.
Canada's FPOYs are chosen by their peers, other health care colleagues, and community leaders for:
Providing exceptional care to their patients
Making meaningful contributions to the health and well-being of their communities
Dedicating themselves as researchers and educators of future generations of family doctors
FPOY recipients must exemplify the four principles of family medicine:
Be skilled clinicians
Be community based
Act as a resource to a practice population
Recognize the central importance of the doctor-patient relationship
CFPC Chapters review nominations and select the FPOY for their respective provinces. The provincial FPOYs are honoured at their respective Annual Scientific Assemblies or Annual General Meetings. The national FPOYs are honoured at the annual CFPC Family Medicine Forum.