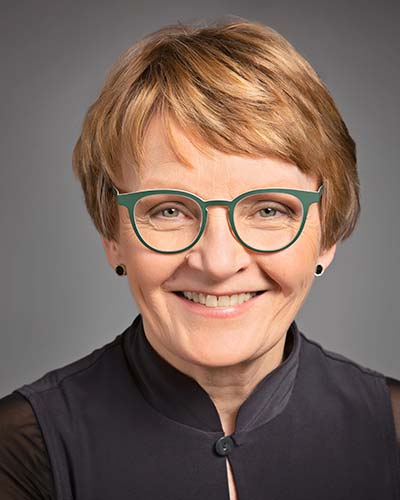 Dr. Cheryl Zagozeski has wanted to be a family physician for as long as she can remember. During her clerkship she found almost every specialty interesting, but her family medicine rotation confirmed her true calling. After 34 years in practice she views many of her patients as extended family members, and she shares in both joyful and tragic times with them.
A true generalist, Dr. Zagozeski's interests in family medicine have varied over time. During her early years of practice she focused on obstetrics, women's health, and pediatrics. Today, many of the patients she treats at the Regina Community Clinic have chronic diseases and multiple comorbidities. In her comprehensive practice she treats patients of all ages, including providing prenatal and postnatal care; geriatric care; and palliative care. Dr. Zagozeski is also developing an expertise in refugee health as her clinic cares for newcomers to Canada through a connection with the Regina Open Door Society, a not-for-profit agency that helps immigrants access services in the city.
Currently, Dr. Zagozeski helps evaluate international medical graduates for the Saskatchewan International Physician Practice Assessment program. Her past service on several committees with the Regina Qu'Appelle Health Region reflects the diverse nature of her practice interests, including the Perinatal Mortality Review Committee, Palliative Care Committee, and Infection Control Committee. Continual learning and caring for people are what make family medicine so fulfilling for Dr. Zagozeski.
Canada's Family Physicians of the Year –
The Reg L. Perkin Award
Since 1972, the CFPC and the Foundation for Advancing Family Medicine have honoured family physician members who exemplify the guiding principles of family medicine. Initially, one award recipient was selected to receive the Family Physician of the Year (FPOY) Award each year. Since 2002, 10 family physicians have been recognized annually—one representing each CFPC Chapter.
Canada's FPOYs are chosen by their peers, other health care colleagues, and community leaders for:
Providing exceptional care to their patients
Making meaningful contributions to the health and well-being of their communities
Dedicating themselves as researchers and educators of future generations of family doctors
FPOY recipients must exemplify the four principles of family medicine:
Be skilled clinicians
Be community based
Act as a resource to a practice population
Recognize the central importance of the doctor-patient relationship
CFPC Chapters review nominations and select the FPOY for their respective provinces. The provincial FPOYs are honoured at their respective Annual Scientific Assemblies or Annual General Meetings. The national FPOYs are honoured at the annual CFPC Family Medicine Forum.