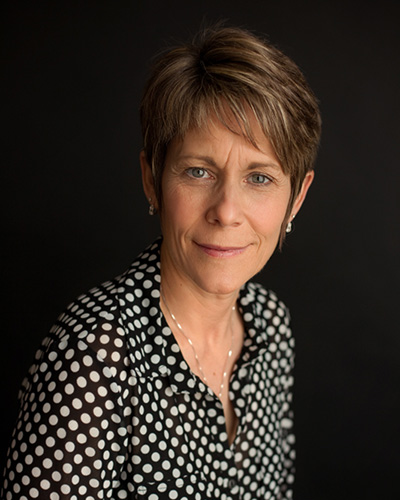 A passionate family physician, Dr Michelle Dow is recognized by her peers as being gracious and insightful, an Acadian icon, and a champion of family medicine.
Dr Dow earned her medical degree from Dalhousie University in 1987, and completed her internship in Fredericton, Moncton, and Saint John the following year. She received certification in family medicine from the College of Family Physicians of Canada in 2010.
In 1988, Dr Dow started with a solo, rural practice in Church Point, Nova Scotia. She practised in Dartmouth from 2005 to 2008 and then moved to the Clare Health Centre family practice in Meteghan Centre, where she serves as Medical Director. She enjoys doing house calls, nursing home visits, operating room assists, and shifts in the emergency room. For many years, she was a Medical Examiner, and is currently Medical Director for Meteghan Emergency Health Services.
Teaching is a passion. Since 1993, Dr Dow has been a Preceptor for medical students and residents at Dalhousie University, University of Ottawa, and Université de Sherbrooke. She is also a primary Preceptor with the new longitudinal family medicine residency program—the second such program in Nova Scotia—and is involved with the family medicine program at Yarmouth Regional Hospital.
Dr Dow has served on numerous committees and just completed a four-year term on the board of Doctors Nova Scotia. She has been a member of the Physician Recruitment Committee for Clare Municipality since 2003. Dr Dow volunteers with several community initiatives, and is on the Board of Directors of Université Sainte-Anne.
In her personal time, Dr Dow enjoys walking, hiking, biking, kayaking, gardening, and reading. She and her husband, Dave, love to travel; they just returned from a trip to China earlier this fall.
Canada's Family Physicians of the Year – the Reg L. Perkin Awards
Since 1972, the CFPC and its Research & Education Foundation have honoured family physician members who exemplify the guiding principles of family medicine. Initially, one award recipient was selected to receive the Family Physician of the Year (FPOY) Award each year. Since 2002, ten family physicians have been recognized annually—one representing each CFPC Chapter.
Canada's FPOYs are chosen by their peers, other health care colleagues, and community leaders for:
Providing exceptional care to their patients
Making meaningful contributions to the health and well-being of their communities
Dedicating themselves as researchers and educators of future generations of family doctors
FPOY recipients must exemplify the four principles of family medicine:
Be skilled clinicians
Be community based
Act as a resource to a practice population
Recognize the central importance of the doctor-patient relationship
CFPC Chapters review nominations and select the FPOY for their respective provinces. The provincial FPOYs are honoured at their respective Annual Scientific Assemblies or Annual General Meetings. The national FPOYs are honoured at the annual CFPC Family Medicine Forum.