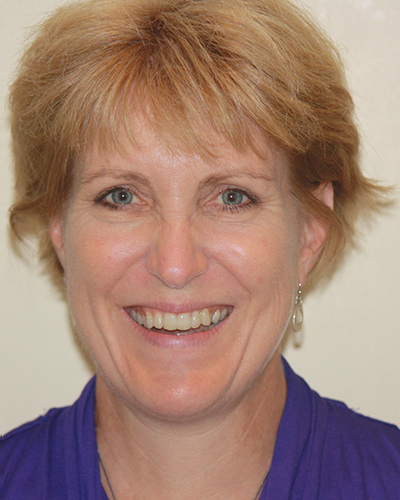 Dr Jeanne McNeill is the 2013 recipient of the Family Physician of the Year Award for New Brunswick. This award recognizes outstanding CFPC family physician members—one in each province—who exemplify the best of what being a family physician is all about.
Dr McNeill began her undergraduate degree at the University of New Brunswick in Moncton in 1979 on the prestigious Beaverbrook Scholarship. A few years later she received her medical degree from the University of Alberta in Edmonton, and began her career in family medicine in Edmonton in 1987.
Dr McNeill moved back to New Brunswick in 1991 and joined the Horizon Health Network in Moncton, where she continues to work today. She has been the Medical Director for family practice, geriatrics, and palliative care since 1998, while maintaining a full-time comprehensive community practice. Dr Jeanne McNeill has been a member of the CFPC since 1995.
Dr McNeill has sat on many New Brunswick government committees, including the provincial breast screening program, Physician Resources Advisory Committee, and, most recently, the Diabetes Working Group. Dr McNeill has also been actively involved with the Federation of Medical Women of Canada and completed terms as president, national treasurer, and board member. She has been a member of the New Brunswick Medical Society since 1991, including past-president in 1998, and is currently Chair of the Communications and Membership Engagement Committee. She has been a member of the Canadian Medical Protective Association (CMPA) Council and its related committees since 2006.
Dr McNeill maintains a strong role in her home community. Since 2002, she has made presentations to local high school and community groups to promote healthy lifestyles. She was Director of the Home and School Association of Riverview Middle School, board member for Riverview Minor Soccer and the Riverview Tennis Association, and is currently President of the Legs for Literacy Running Event.
Canada's Family Physicians of the Year – the Reg L. Perkin Awards

Since 1972, the CFPC and its Research & Education Foundation have honoured family physician members who exemplify the guiding principles of family medicine. Initially, one award recipient was selected to receive the Family Physician of the Year (FPOY) Award each year. Since 2002, ten family physicians have been recognized annually—one representing each CFPC Chapter.
Canada's FPOYs are chosen by their peers, other health care colleagues, and community leaders for:
Providing exceptional care to their patients
Making meaningful contributions to the health and well-being of their communities
Dedicating themselves as researchers and educators of future generations of family doctors
FPOY recipients must exemplify the four principles of family medicine:
Be skilled clinicians
Be community based
Act as a resource to a practice population
Recognize the central importance of the doctor-patient relationship
CFPC Chapters review nominations and select the FPOY for their respective provinces. The provincial FPOYs are honoured at their respective Annual Scientific Assemblies or Annual General Meetings. The national FPOYs are honoured at the annual CFPC Family Medicine Forum.