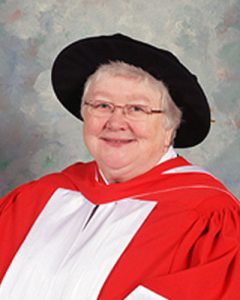 Sister Elizabeth Davis is the Congregational Leader of the Sisters of Mercy Generalate in St. John's, Newfoundland. She earned her education at Memorial University of Newfoundland and continued to do her Master's Degree in Theology at Notre Dame and a Master's of Health Science Administration at the University of Toronto. After teaching high school for several years, she served as Assistant Medical Director, Assistant Executive Director, and Executive Director at St. Clare's Mercy Hospital in St. John's, Newfoundland. From 1994 to 2000 she was the President and CEO of the Health Corporation of St. John's. She is currently pursuing her doctorate in Theology (Biblical Sources) at the Toronto School of Theology where she is also a Sessional Instructor.
Sister Elizabeth has served with many national and international organizations including the Council of Licensed Practical Nurses, the Association of Canadian Teaching Hospitals, the Canadian Institute of Health Information, the National Board of Medical Examiners (USA), and the Royal College of Physicians and Surgeons of Canada.
Her expertise defines the word variety: subjects related to her religious studies, work on patient-focused care, health care leadership, quality of care, patient safety, professionalism, health services research, and change management. Her leadership and dedicated work in health policy, advocacy, and teaching bring a unique and inspiring perspective about how each of us has an important role in advancing health care to ultimately benefit our patients.
CFPC Scotiabank Family Medicine Lectureship Award

The CFPC-Scotiabank Lectureship is supported by the CFPC, the Foundation for Advancing Family Medicine, and Scotiabank. It is awarded to an outstanding national or international figure who has contributed significantly to medicine, family medicine, and/or the health and well-being of the population in Canada or around the world.