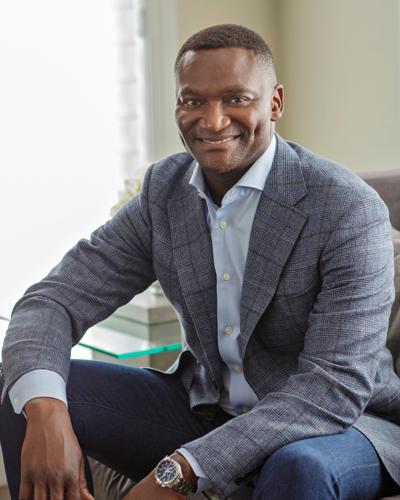 "Family Medicine affords me the privilege of impacting patients in a meaningful way through empowerment with tools and strategies to enable them to be the healthiest and best versions of themselves."
A leader in equity, diversity, inclusion, and wellness at the local, provincial, and national levels, Dr. Kannin Osei-Tutu serves as a family physician in Calgary, Alberta. Dr. Osei-Tutu works in acute care in-patient medicine caring for patients with diseases related to socio-political inequity and marginalization.
In addition to his role as a family physician, Dr. Osei-Tutu serves as the founder and President of the Black Physicians' Association of Alberta (BPAA), an executive member of the Black Physicians of Canada, and the national Chair of the Royal College Accreditation Working Group to Address Anti-Black Racism in postgraduate medical education.
Finally, Dr. Osei-Tutu's emerging research program seeks to reconceptualize compassion in an inclusive way while developing digital technology and artificial intelligence tools to promote equity in health outcomes.
Donald I. Rice Award
This award, named in memory of Dr. Donald I. Rice, CFPC Executive Director from 1965 to 1985, recognizes an outstanding CFPC family physician member for their contributions to teaching, vision, and leadership in the discipline of family medicine.