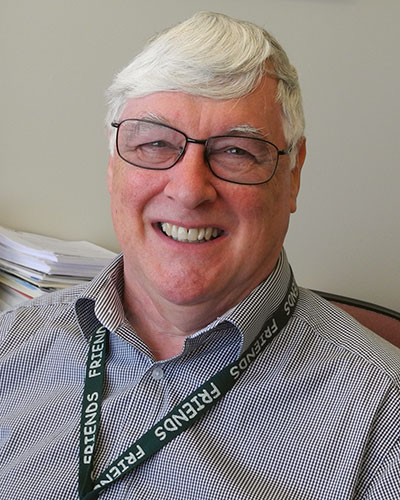 Dr. Andrew James Cave has been a faculty member in the Department of Family Medicine at the University of Alberta since 1992. As a full-time professor he focuses on residency training, respiratory care, team work in primary care, and narratives in medical education. Dr. Cave also works at the Kaye Edmonton Clinic, where he engages in complex adult medicine, prenatal care, and house calls, especially palliative care visits.
After qualifying in 1971 from the Victoria University of Manchester, Dr. Cave completed his rotating house jobs at Withington Hospital, followed by a year teaching anatomy. To improve his teaching abilities, Dr. Cave undertook a master's program with Ian McWhinney at Western University from 1982-83.
Dr. Cave chose general practice because he is interested in people as much as he is in diseases, and prefers to focus on long-term health rather than episodic incidents. The best part of his job is working with others who share the same interests. The primary care team based in the family physician's office has been his passion since his early days in practice in the United Kingdom. He is determined to expand family practice with input from other disciplines and other countries, and to provide evidence of what works best for patients.
Lifetime Achievement in Family Medicine Research Award

These awards honour individuals who are trailblazers and leaders in family medicine research, and who have made a significant career contribution to family medicine research during their active career years. These awards give public recognition to both their work and to the discipline of family medicine.