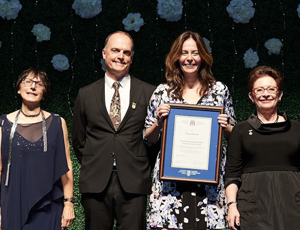 Dr. Frances Berard, FMF 2018, Toronto
The Marco Terwiel Rural Family Medicine Innovation Grant is for family physicians in northern, rural, and remote locations who would like to enhance or introduce innovative ways to serve the medical needs of their communities to increase effectiveness and efficiency. This award is named in honour of Dr. Marco Terwiel, a family physician who was devoted to the health and well-being of patients in rural and remote areas.
Being the only physicians available for many miles around, family physicians working in rural areas have exceptionally broad and flexible skills to be able to respond effectively to medical challenges that, in a more advanced setting, would usually be referred to either emergency rooms or other specialists. From the necessity of their situation emerge novel ways to provide the high standard of care they are trained to deliver. This grant is for a family physician looking to develop or enhance a tool, resource, or app, for example, to address the complexity of patients access to care in rural and remote areas.
Eligibility criteria:
Applicants must be members of the College of Family Physicians of Canada (CFPC) who have been in good standing for at least one year and are working in a northern, rural, or remote community.
If applying as a team, at least one member of the team must be a member of the CFPC who has been in good standing for at least one year.
Applicants are not eligible if they have received this grant in the past three years.
Please visit our Policies and Procedures page for basic eligibility guidelines and additional considerations.
Taxable income:
Award funds received are taxable and are considered part of your personal income in the fiscal year in which they are received. The Foundation for Advancing Family Medicine (FAFM) will issue a statement of income (T4A information slip) at the end of the year for these amounts. We recommend that you obtain professional advice from your financial/tax adviser regarding the income tax implications of this award.
Application process:
The application window opens on December 15, 2020.
Applications must reach the CFPC National Office by 4:00 p.m. (ET) on February 1, 2021.
Applications must be submitted online.
Please refer to this PDF for application requirements
Selection process:
The Advancing Rural Family Medicine: The Canadian Collaborative Taskforce will select the top application.
The results will be forwarded to the national Honours and Awards Committee for final approval.
All applicants will be notified of the results in July.
Recognition of support:
This is a program of the Foundation for Advancing Family Medicine (FAFM), through the generosity of its donors, the Terwiel family, and the Marco Terwiel Endowment Fund of the FAFM.