Family Medicine Forum (FMF)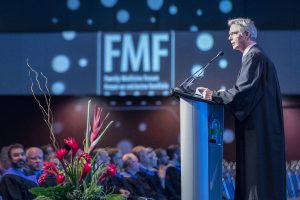 Family Medicine Forum (FMF) is Canada's largest and most comprehensive annual conference for family physicians, and is hosted by the CFPC.
FMF provides four energizing days of practical, cutting-edge, and thought-provoking educational opportunities. It features impressive daily keynote presentations and a vast array of continuing professional development sessions designed specifically for family physicians, researchers, and teachers.
FMF offers many special events, celebrations of achievements in family medicine, an extensive Exhibit Hall, and several social opportunities that allow you to recharge and network with peers and colleagues.
FMF is an opportunity for family physicians, residents, medical students, researchers, and teachers to learn more about the CFPC and its role in establishing standards for the training, certification, and lifelong education of family physicians and for advocating on behalf of the specialty of family medicine, family physicians, and their patients.
To learn more about the FAFM and the Honours and Awards Program, please visit us in the Exhibit Hall at College Square during FMF 2018, from November 14 to 17 in the beautiful city of Toronto!
---
Annual Silent Auction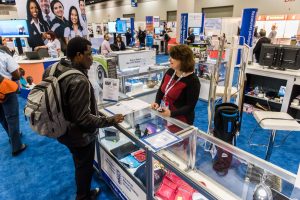 As a part of our annual fundraising efforts, the FAFM hosts its Silent Auction every November during FMF. All proceeds support the advancement of family medicine initiatives carried out by family doctors on behalf of their patients.
We are thrilled to report that in 2017, our 13th Silent Auction raised more than $6,000! With heartfelt gratitude, we thank the organizations and individuals—both returning and new—who made last year's auction such a memorable success through their generous contributions. We also thank all of the FMF delegates and attendees who took the time to stop and bid on our eclectic selection of auction items. Your support makes a real difference in improving primary care for all Canadians.
We look forward to you joining us at our 14th Silent Auction, which will take place during FMF on November 14 to 17, 2018.
---
Canada's Walk With the Docs – Advancing Family Medicine Globally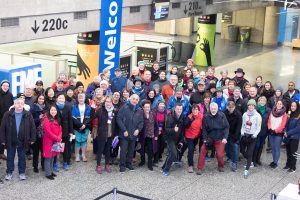 Take in the sights of downtown Toronto in the early morning hours on Saturday, November 17th, at the second annual Walk With the Docs – Advancing Family Medicine Globally! Grab your friends, family, and colleagues and commit to collecting pledges. Show up that morning for a brisk walk from 7:00 to 8:00 a.m. around the downtown core, and land at the Fairmont Royal York for a nourishing, complimentary continental breakfast for all participants.
The Walk supports the CFPC's Besrour Centre, a hub of international collaboration that brings what the CFPC is best at, excellence in family medicine, to 400 million people around the world without access to primary health care. Through recognized leadership in the training and delivery of family medicine in Canada, the Besrour Centre advances medical education and training, advocates for better primary care to advance social accountability, and enables family medicine research and quality improvement in vulnerable communities worldwide. Your pledges and participation support family medicine as crucial to good health in Canada, and beyond!